Cirugía Gastrointestinal Service
El Servicio de Cirugía Gastrointestinal pertenece al Instituto de Enfermedades Digestivas y Metabólicas (ICMDM). Tiene como principal finalidad el diagnóstico, tratamiento y seguimiento de los pacientes con enfermedades gastrointestinales, tanto benignas como malignas.
El Servicio centra su actividad asistencial en el tratamiento de la obesidad, las enfermedades proctológicas y las de la pared abdominal. El denominador común de todas ellas es la aplicación de técnicas quirúrgicas mínimamente invasivas, así como la colaboración entre equipos multidisciplinares, lo que proporciona a los pacientes un tratamiento individualizado, integral y de alta calidad asistencial.
What are we dealing with?
Estos son los principales temas de salud que se abordan desde el Servicio de Cirugía Gastrointestinal.
Know the team
El Servicio de Cirugía Gastrointestinal desarrolla su actividad asistencial tanto en la sala de hospitalización como en el quirófano.
El equipo está formado tanto por médicos de staff como de médicos internos residentes y fellows. Así mismo, en cada sala el Servicio cuenta con las coordinadoras asistenciales, el equipo de enfermería, auxiliares de enfermería y personal administrativo. Junto con el resto del Instituto de Enfermedades Digestivas y Metabólicas trabajan una fisioterapeuta, una dietista y una trabajadora social.
En quirófano se trabaja de forma coordinada con el equipo de anestesia y los equipos de enfermería, tanto quirúrgica como de anestesia.
Assistive Devices
La actividad asistencial del Servicio de Cirugía Gastrointestinal se desarrolla en los siguientes dispositivos:
See assistive devices
Content prepared with the collaboration of:
Testimonials
El Cáncer de Colon y Recto en primera persona
Appointment of José, Paciente
A una persona que le acaben de diagnosticar un cáncer de colon le transmitiría un mensaje de optimismo. Según mi experiencia, el porcentaje de superación de la enfermedad con un diagnóstico precoz es altísimo.
News related with the service
Barcelona hosts the first 5G tele-mentored surgery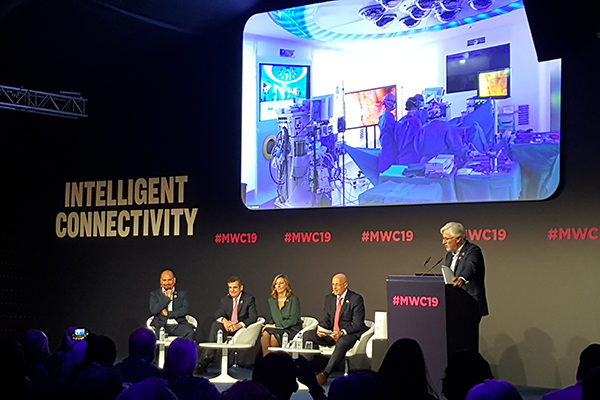 February 27 2019
2020-01-08