Between 16 and 18 November, the Spanish Cancer Research Association (ASEICA) held the 18th ASEICA International Congress in Santiago de Compostela. Within the framework of this meeting, attended by over 350 researchers, the Association bestowed recognition on the extensive professional career of Elías Campo, director of IDIBAPS and head of the Molecular pathology of lymphoid neoplasms group with the ASEICA Cancer Research Award 2022.
The research conducted by Campo focuses on the study of the genetic and molecular mechanisms involved in the pathogenesis of lymphoid neoplasms, to be able to improve the diagnosis of these tumours, predict their evolution and identify the most effective treatments. His notable contributions to oncology have led to him receiving numerous accolades, notably including the National Research Award-Catalonia (2013), the Rei Jaume I Medical Research Award (2016), the Gregorio Marañón National Research Award (2020), the Jose Carreras Award of the European Haematology Association (2021) and the Fred W. Stewart Award of the Memorial Sloan Kettering Cancer Center (2021). Furthermore, he has been a member of the US National Academy of Medicine since 2019.
"The feeling evoked by this recognition is one of deep thanks for what ASEICA means for oncological research in Spain: it is the go-to place for all cancer research", stated Elías Campo. "For people like myself, who dedicate their research activity to closing the gap between basic and clinical science, it is a source of great satisfaction".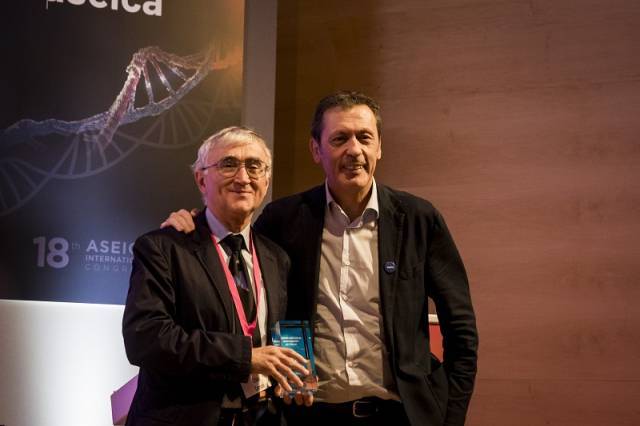 During the same ceremony, ASEICA also made public the ASEICA Awards for Young Research Talent, which this year went to Ángela Lamarca, from the Fundación Jiménez Díaz University Hospital, and to Alejo Rodríguez-Fraticelli, from the Barcelona Biomedical Research Institute, in the clinical and basic modalities respectively.
"Through the ASEICA Awards for Cancer Research and Young Research Talent, we aim to raise the visibility of the talent, effort and, in short, the excellent work carried out by Spanish researchers despite the difficulties that they so often have to battle. Research is not a luxury, it is the only way we have of optimising health and quality of life for our fellow citizens", concludes Luis Paz-Ares, president of ASEICA.