Mantle cell lymphoma (MCL) is a rare and aggressive type of B-cell non-Hodgkin's lymphoma. This cancer is characterized by the proliferation and accumulation of the immune system's B cells in the lymph nodes. Moreover, the surrounding cells create a protective environment that booststumor survival, growth and resistance to treatment. Patricia Pérez-Galán, head of the IDIBAPS group Microenvironment in lymphoma pathogenesis and therapy, and her team are studying how to dismantle this network of cooperation between the environment and cancer to develop new targeted and personalized therapies.

"Until now, we did not have any pre-clinical models that reproduced the variability of the disease, which includes several tumor subtypes, or how they interact with the microenvironment", explains Ferran Araujo-Ayala, the first co-author of the study, published recently in the journal Leukemia. "This led us to develop three-dimensional state-of-the-art cultures using tumor and immune cells from patients' blood as starting material. Through an optimized culture arranged in 3D, we have achieved a system that mimics the processes that take place in the lymphoid tissue, meaning the nodes, which is lymphoma's preferred niche".
According to the results, the patient-derived three-dimensional cultures, also called spheroids, are viable and proliferate, at least for a week. They also express genes involved in mechanisms characteristic of cancer, such as cell division, growth, survival and metabolism. In addition, tumor cells in spheroids modulate surrounding monocytes and T cells. In fact, the latter experience a phenomenon known as "T-cell exhaustion", meaning that they lose the ability to recognize and eliminate cancer, just as happens in patients' bodies.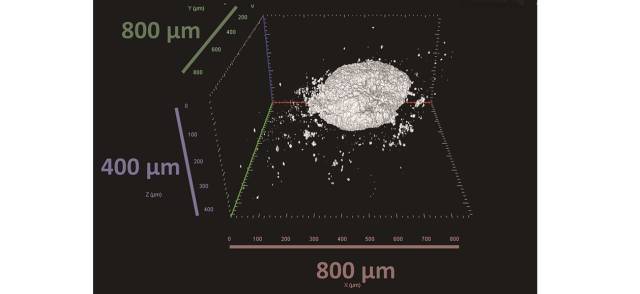 "Another particular quality of spheroids is that they recapitulate the response to the treatment of the patient from whom the cells are derived", Pérez-Galán says. "Ibrutinib is a drug routinely administered in cases of mantle lymphoma that have not responded to initial treatment. In the laboratory, we observed that ibrutinib reduces the viability of spheroids from patients with good sensitivity to the drug. However, the model also reproduced the behavior of a case that responded to the treatment at first, but later showed resistance". The combined use of ibrutinib and immunotherapy is put forward as a therapeutic alternative for these patients, and spheroids could help to identify people for whom the treatment would work best.
In summary, the authors say that spheroids constitute a robust model that mimics the main characteristics and behavior of mantle lymphoma and could be useful for evaluating the effectiveness of different treatments.
The study has received funding from the INTERREG V-A Spain-France-Andorra Program (POCTEFA), the Biomedical Research Center in Cancer (CIBERONC), the Agency for Management of University and Research Grants (AGAUR) and the Ministry of Economic Affairs and Digital Transformation (MINECO).
Reference article
Araujo-Ayala F, Dobaño-López C, Valero JG, Nadeu F, Gava F, Faria C, Norlund M, Morin R, Bernes-Lasserre P, Serrat N, Playa-Albinyana H, Giménez R, Campo E, Lagarde JM, López-Guillermo A, Gine E, Colomer D, Bezombes C, Pérez-Galán P. A novel patient-derived 3D model recapitulates mantle cell lymphoma lymph node signaling, immune profile and in vivo ibrutinib responses. Leukemia. 2023 Apr 8. doi: 10.1038/s41375-023-01885-1.