The EAVI2020 initiative brings together a multidisciplinary team of molecular biologists, immunologists, virologists, biotechnologists and physicians, which provides the breadth of knowledge necessary to transfer, through preclinical trials and production scaling, the latest discoveries in the laboratory to the first clinical trials.
Having developed new vaccine candidates designed to induce protective antibodies, the meeting evaluated the plans for the first trial in humans with this candidates. These clinical studies will be started next year in London (UK) and will determine their potential to induce protective antibodies and pave the way for further large trials to determine the potency of the vaccine. Professor Robin Shattock, who leads the consortium, explains that "this is an exciting new step in our program, and represents the first of several human trials to identify the components of the vaccine needed to prevent HIV infection". EAVI2020 is planning additional tests to take place in Barcelona towards the end of 2018 designed to induce cells capable of killing or eliminating cells infected with HIV. "We are also looking to develop vaccine approaches that can help control or even eliminate the virus in infected individuals," he adds. This approach is being developed by Prof. Christian Brander, researcher at IrsiCaixa, and Prof. Tomas Hanke, from the University of Oxford.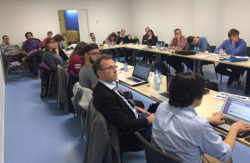 In the framework of the meeting, Dr. Joan Joseph, researcher of Fundació Clínic at IDIBAPS and Prof. Britta Wahren, of Karolinska Instiute, teaching coordinators of the consortium, organized in the Faculty of Medicine and Health Sciences of the University of Barcelona the advanced training sessions on vaccines and immunology of HIV for doctorate, postdoctoral and master European students.