The Associació Catalana d'Entitats de Recerca (ACER) promotes a programme so that students who have received the Extraordinary Baccalaureate Award can do a stay at a research centre.
IDIBAPS welcomed two students to do a stay at the institution from 3 to 7 July: Arnau Guerrero, who is currently studying Biochemistry, and Meritxell Solana, who is studying Biomedical Sciences.
Strategy director Michela Bertero welcomed them and broadly explained how the institution works and is organised. Aina Rodríguez, the head of platforms and the biobank, then gave them a tour of the platforms. "We were surprised by the large number of samples they keep in the biobank and the level of order and management there", the students explain. They also visited two other platforms, dealing with genomics and cytometry, where they were told how the machines work and which techniques are carried out. "Being here, I was able to understand much better how DNA sequencing and microarrays work. It's such a privilege to be able to ask any question and see all the necessary machinery", Arnau Guerrero says.

The visitors learned about the work of the three research groups. First was the Inflammatory bowel disease group, led by Azucena Salas. Group members Victoria Gudiño and Elisa Melón described their projects and explained Crohn's disease and ulcerative colitis. Gudiño and Melón carried out some practices with the students that involved processing and staining histological samples, then observed them under a microscope. They delved deeper into the histology of the intestine to distinguish between healthy and affected samples. "Now I see all the work that is done before I can observe a sample", Meritxell Solana says.
The students also spent time with the Microenvironment in lymphoma pathogenesis and therapy group, headed by Patricia Pérez-Galán. They were accompanied by two of the group's researchers, Juan García and Heribert Playà. With Playà, they focused on leukaemia, specifically by studying tumour-infiltrating B lymphocytes, and conducted an analysis to differentiate them from healthy ones. "Seeing how the cytometer works and how to interpret the graphs that it provides to you live gives you a much better understanding of how it works", Meritxell Solana says.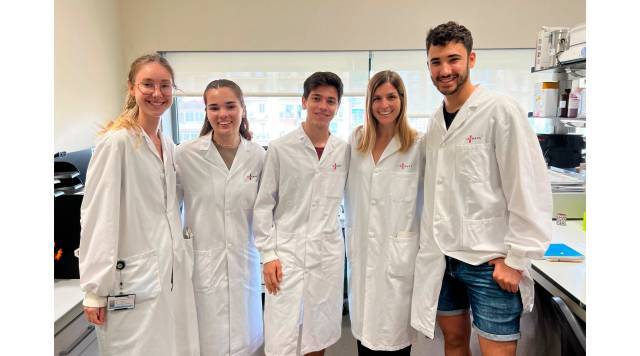 With Juan García, they got the chance to understand how monocytes are distinguished from macrophages and everything involved in the process. The proposed experiment involved the isolation and cultivation of monocytes for subsequent treatment for their differentiation into M1 and M2 macrophages. "Macrophages are like yin and yang. Under certain conditions, they can be good at fighting cancer, but they can also pose a serious problem", García explains.
Finally, they met the Molecular genetics of paediatric lymphomas group, led by Itziar Salaverria. She showed them what her research consisted of, the complications she encountered and all the roles of the principal investigator. With group members Sara Mato and Noelia García, the students analysed DNA quantification methods. They also learned about fluorescent in situ hybridisation (FISH), which allows researchers to mark specific parts of chromosomes to look for possible abnormalities. They were also able to observe several samples under a fluorescence microscope. Later, Ariadna Colmenero and Júlia Salmeron taught them all about bioinformatics and data analysis so they could see how to identify mutations after DNA sequencing.
Apart from seeing some examples of the research being done first-hand, the students also discovered some of the research support work and visited the Human Resources Department and Legal Office. "We were surprised by all the bureaucracy involved in the world of research", they say.
Two pre-doctoral researchers, Marta Perea and David Sanfeliu, explained their career paths, advised them and answered their questions. "We don't often hear about what happens after university and the whole range of possibilities that lie there. Being able to talk to people who have already experienced it really helps us to decide what we want to do once we finish", Arnau Guerrero says.
Changing dynamics, both students attended the Clínic Barcelona Summer School's workshop Innova i venceràs. This interactive workshop allowed them to participate in a group dynamic where they saw the steps to follow when putting an idea into practice.

Finally, the communication team, composed of Marta Pulido and Carlota Vallès and headed by Daniel Arbós, explained the work they do preparing the videos and news to be able to cover everything that happens at IDIBAPS, from the studies being conducted to the awards won.
This stay has allowed the two students not only to see the most practical part of research, but also the network of people who make it possible. "Thanks to this stay, we could get a much more realistic picture of what it's like to be a researcher and work in a laboratory. We are very grateful for the good treatment we've received and we highly recommend the experience", Arnau Guerrero and Meritxell Solana conclude.
(This story was written by Meritxell Solana and Arnau Guerrero as a practical part of their stay at IDIBAPS)