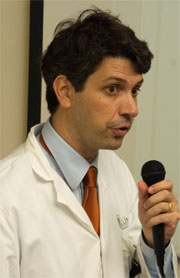 One of the challenges of modern medicine is the diagnosis of diseases before they develop clinical manifestations such as tremor or dementia. Neurodegenerative disorders begin in latent periods during which the cells suffer degeneration but clinical manifestations are not yet observed. In this context, the degenerative process advances, and neuropathological changes affect the nervous system. The new data contributed by the investigators of the Hospital Clínic – IDIBAPS, and published in Lancet Neurology, make it possible to identify the disease at preclinical stages in patients with REM sleep disturbances.
In the previous work of this same team, 45% of the patients studied had developed a neurodegenerative disorder 5 years after diagnosis of the sleep disturbance. All of them were over 60 years of age and presented REM sleep disturbances in the form of nightmares in which they called out, cried or showed body movements. The new study goes beyond this point and presents the data relating to the follow-up of 43 new patients during two years and a half after undergoing the neuroimaging tests. The 123I-FP-CIT SPECT technique makes it possible to identify striatal dopamine dysfunctions typical of brain substantia nigra pathology, which can degenerate towards Parkinson's disease. Transcranial ultrasound identifies structural alterations of the substantia nigra such as increased iron presence, before Parkinsonism gives rise to clinical manifestations.
The study describes how 19% of the patients had developed a neurodegenerative disorder in the two and a half years following the neuroimaging tests. Of these subjects, 5 developed Parkinson's disease, two developed Lewy body dementia, and one patient developed multisystemic atrophy. All of them belonged to the group of 27 patients (62.8%) showing low FP-CIT uptake at SPECT and/or hyperechogenicity in the substantia nigra in transcranial ultrasound. In other words, none of them had yielded normal results in the neuroimaging tests. In turn, the patients with normal neuroimaging findings showed no neurological disorders after 2.5 years of follow-up.
The investigators have concluded that the neuroimaging tests make it possible to identify patients with REM sleep disturbances who are at high risk of early development of a neurodegenerative disorder such as Parkinson's disease. This will help improve our knowledge of the progression of these diseases, test drugs that might modify their course and initiate early therapy, once the clinical diagnosis is established.