The natural evolution of chronic respiratory diseases like Chronic Obstructive Pulmonary Disease (COPD) leads to a progressive worsening of the patient's condition. Punctual complications like infections in advanced stages of this disease may lead patients to be admitted to an ICU. It is known that 10% of the ICU admitted patients suffer from chronic respiratory disease and they very often require assisted ventilation, the most critical moment of which is extubation.
The study shows that non-invasive ventilation is substantially beneficial in the subgroup of patients in an advanced stage of COPD plus showing hypercapnia at the right moment of the extubation. Hypercapnia is a high level of carbon dioxide in the bloodstream because affected lungs are not capable of properly releasing it into the atmosphere, so it has therefore become a severity indicator in chronic respiratory patients. Traditionally, a spontaneous breathing test is performed before extubation: if the patient breaths normally, current clinical guidelines suggest oxygen administration. In this paper, the respiratory failure in 52 patients in the control group who were only provided with oxygen reached 48%.In 10 of these cases, patients required a reintubation which obviously increased the risk of death, whereas the respiratory failure ratio in the group of 54 patients who were assisted with non-invasive ventilation immediately after extubation was of only 15%. Only 6 of them were reintubated and the 90 days survival rate was increased in 20%. These revealing data will eventually modify today's clinical managing of COPD patients.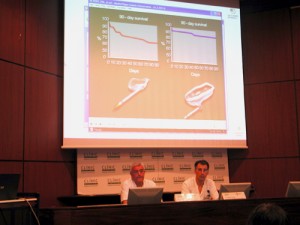 Facilities in the Hospital Clinic of Barcelona are probably the most advanced in Spain when it comes to assist critical respiratory patients. However, non invasive ventilation is an easy technique which can be performed in any ICU unit after proper staff training. An international research study revealed no favourable results in terms of respiratory failure when applying non-invasive ventilation to all extubated patients in the ICU, so this fact questioned the suitability of this technique applied on a general basis. Even though, another research group in the team of investigators in IDIBAPS, also directed by Dr. Miquel Ferrer and Dr. Antoni Torres found out that hypercapnic chronic respiratory patients could take advantage of this and therefore designed a new study to confirm this hypothesis.
After leaving the ICU, chronic respiratory patients are very likely to enjoy a good life quality and still keep in touch with the hospital and the ambulatory unit. Researchers in IDIBAPS – Hospital Clinic of Barcelona can identify new patient subgroups that can benefit from this technique. Previous papers have already had a great impact in the clinical practice such as slightly leaning ICU patients into a determined position in order to avoid intrahospital pneumonia or the description of some severity indicators. These simple recommendations are easily applicable and have an enormous positive impact in the evolution of the patients' condition.
There is still a big deal of work to be done for improvement of the survival and the life quality of the affected patients, but we must not forget the focal point in fighting against this syndrome is tobacco abuse, as the primary cause of COPD, together with healthy lifestyle habits.