Since 2020, the European Mantle Cell Lymphoma (MCL) Network, with its Czernecki-Donelly Award, has distinguished studies on the disease conducted by young researchers. The Award is endowed with a prize of €5,000, originating from a donation to the European Network from an MCL patient in gratitude for the treatment and cure of his aggressive MCL.
MCL is a type of non-Hodgkin's lymphoma that is quite rare and generally very aggressive. This cancer develops from malignant B-lymphocytes in a region of lymph nodes known as the mantle zone.
The research career of Sílvia Beà, from the IDIBAPS Molecular Pathology of Lymphoid Neoplasms research group is focused on the study of genetic alterations of lymphomas, mainly MCL, with the aim of identifying biomarkers useful for diagnosis, for prognosis, or for predicting the response to different therapies. Beà has published 125 articles, with 64 of them focusing on the study of MCL. In addition, her doctoral thesis on MCL received a distinction.
The article for which Beà has received this accolade, titled Genomic and epigenomic insights into the origin, pathogenesis and clinical behavior of mantle cell lymphoma subtypes, uses genome sequencing to show that the translocation of cyclin D1 takes place through the same mechanisms in conventional MCL and in leukemic non-nodal MCL. Furthermore, it identifies new "driver" genes and complex structural mechanisms that promote the activation of oncogenes and that have a prognostic impact. The finding permits classification and stratification with different clinical behaviour according to genomic complexity, and the proliferative history of patients. The work, which took five years, involved the participation of over 31 researchers and has received 30 citations.
Beà collected her award within the framework of the twenty-first annual symposium of the European Mantle Cell Lymphoma Network, held in Paris between 28 and 30 October 2021.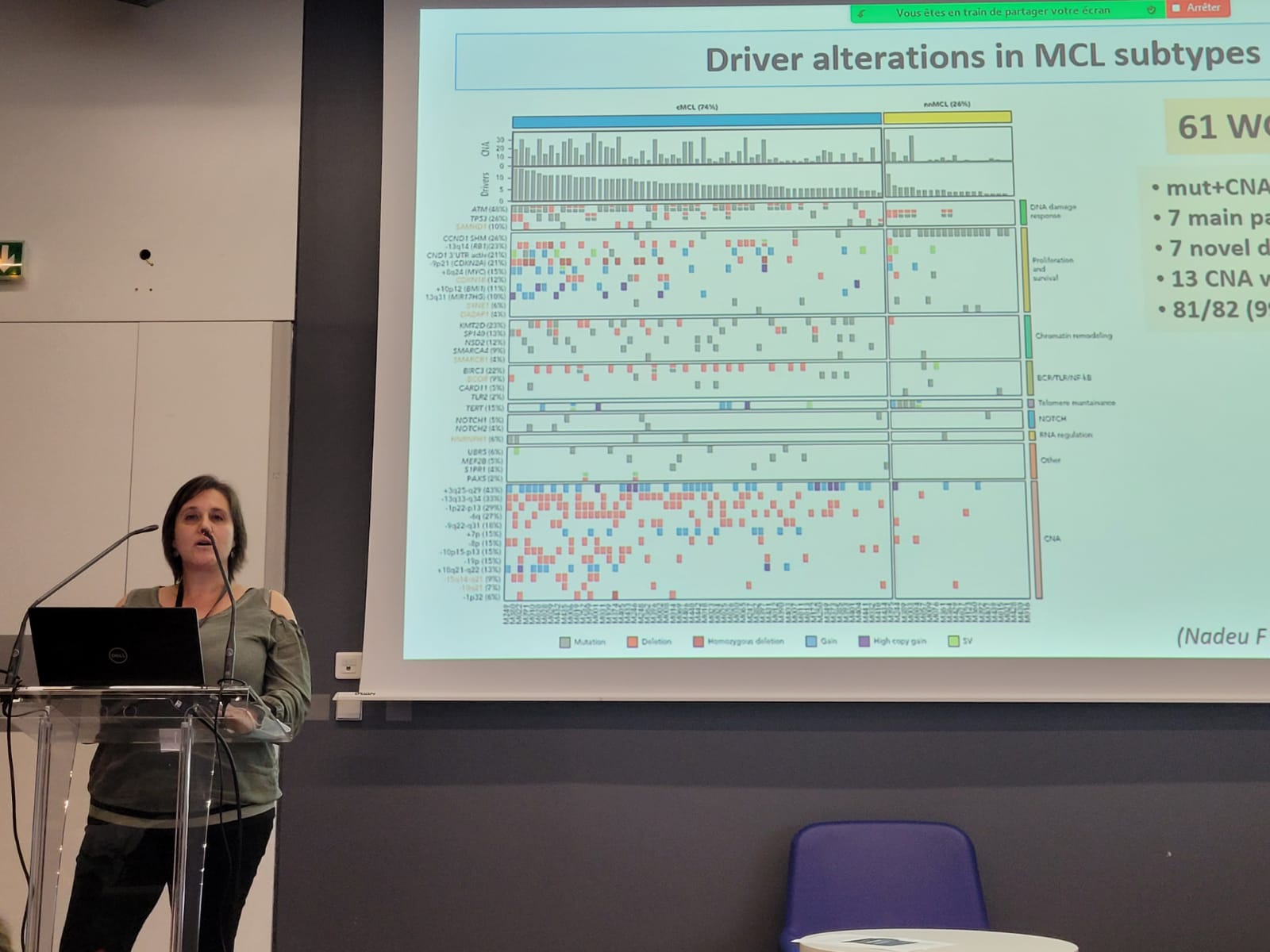 Silvia Beà delivered the lecture "New molecular alterations in MCL" as an award winner.