Over the first two and a half years of the project, the team led by Dr Eduard Gratacós at developed a first integrated artificial placenta prototype which has increased the hours of survival exponentially to reach 12 days with good foetal health. This is the first major milestone in this enormously complex scientific project promoted by "la Caixa" Foundation and aimed at increasing the survival and reducing the serious sequelae suffered by babies born at six months or less, considered extremely premature infants.
To create an environment in which a very premature neonate can live as naturally and as near to being in the womb as possible, the first prototype developed includes a protected environment consisting of a translucent container made of biocompatible material and connected to an amniotic fluid circulation system that maintains the foetus in a liquid environment isolated from external stimuli but accessible for ultrasound controls and constant monitoring.
Another of the major advances achieved so far is the creation of an extracorporeal circulation system formed by an oxygenating membrane and a system made from parts (tubing) specifically designed to permit blood circulation and oxygenation, which simulates what occurs naturally in intrauterine life via maternal placenta and the umbilical cord.
The interdisciplinary project team has also focused its work on developing a non-invasive real-time monitoring system that enables permanent remote monitoring to provide the medical team with intensive control of the state and development of the foetus. Medical support protocols have also been drawn up, including the administration of nutrition, hormones and other medications, providing for possible clinical scenarios and the medical actions necessary to reverse them.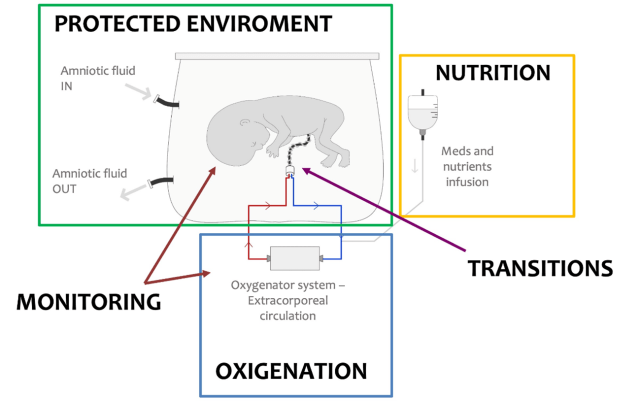 According to Dr Gratacós: "This is one of the most disruptive and singular research projects in foetal medicine today. Just to have an experimental platform like the one to be built will enable important parallel research to take place that will help us understand normal and abnormal foetal development. This will increase our capacity to attract investment for R&D&I in Barcelona, Catalonia and Spain, and will usher in a new generation of techniques and procedures that will revolutionise foetal and neonatal medicine as it stands today".
Antonio Vila Bertrán, CEO of "la Caixa" Foundation, Josep Maria Campistol, CEO of Hospital Clínic Barcelona, Manel del Castillo, CEO of Hospital Sant Joan de Déu, Eduard Gratacós, Director of BCNatal and project leader, Elisenda Eixarch, senior specialist at BCNatal and senior scientific coordinator of the project, and Ignasi López, Director of "la Caixa" Foundation's Office of Relations with Research and Health Institutions today presented the results of the first phase in the CaixaResearch Artificial Placenta project.
Second experimental validation phase to prepare for the clinical phase
To date, using an ovine animal model, the team has designed and described the surgical techniques and protocols necessary for a smooth transition from the uterus to an artificial placenta system, successfully completing all transitions in the last 12 months.
After analysis and evaluation by a panel of experts from five countries with recognised international prestige in foetal and neonatal medicine, the CaixaResearch Artificial Placenta project now enters a second phase (2023-2026). This second phase will also receive support from "la Caixa" Foundation, which will inject a further 4.3 million euros after the 3.35 million for the first stage, now drawing to a close.
"At present, for the families of extremely premature babies, a time that should be full of joy becomes a journey full of uncertainty and anguish. With BCNatal, Hospital Sant Joan de Déu and Hospital Clínic Barcelona we share enormous enthusiasm to move forward with this project and achieve a solution that will help save lives and reduce the severe developmental sequelae that affect some of these newborns. We hope to provide them with a better quality of life and to give greater peace of mind to their families", says Antonio Vila Bertrán, CEO of the "la Caixa" Foundation.
During this second phase, one of the new milestones the team hopes to achieve in 2024 is to extend survival time from the present 12 days to more than 3 weeks. To this end, in cooperation with the industry, the project will focus on technological improvements aimed at optimising the medical equipment used, such as cannulae and oxygenating membranes.
The project team will also aim to design and describe the protocols necessary for the transition to neonatal life, that is, the birth of the foetus from the artificial placenta to extrauterine life, so that it begins to use its lungs like any other newborn. Experiments will also be conducted on another large animal model such as the pig in order in order to demonstrate the transferability of the system to other species, evaluate the long-term effects on brain, cardiac, lung and metabolic development, and make all ethical and legal preparations so that a first clinical study can be approved in the context of compassionate use treatment.
A disruptive solution to save the lives of premature newborns
Although more than 90% of pregnancies are carried to term normally, foetal life remains one of the most high-risk phases for humans. One of the main unresolved problems is still extreme prematurity (six months or less), which affects 25,000 families every year in Europe alone. The survival of extreme preterm infants, even in excellent health units, is low (25-75%), and a significant proportion of survivors present sequelae.
This is because, prior to the sixth month of pregnancy, the lungs, intestines and brain of the foetus are underdeveloped and not ready to function properly. An extremely premature newborn is, in fact, a foetus that must survive in a very unnatural environment. Weighing less than 1,000 grams, these neonates require respiratory support and intravenous feeding to keep them alive, but this can lead to complications and have an impact on their future life. Artificial placenta can provide a solution that improves the quality of life of these newborns.
The excellent results produced by the project will be presented to the medical community at the World Congress in Fetal Medicine, which will take place in Valencia on June 25-29 and will include a session specifically devoted to artificial placenta.
The research group led by Dr Gratacós is strongly interdisciplinary in nature, with more than 35 researchers from different specialties in medicine, biology, engineering, nursing and so on taking part directly and a further 35 providing collaboration. The project is also assisted by several supervisory committees which include experts in other fields (reproductive rights and bioethics, among others), and parents of premature children.
Apart from the team working on the CaixaResearch Artificial Placenta project, there are only four similar groups in the world at present (in Philadelphia and Michigan in the United States, an Australia-Japanese consortium, and in Toronto. Canada) that have developed experimental models that have made significant advances in recent years.