How to get to and how to contact the Hospital Clínic (Villarroel Centre)
Entrances and opening times::

Carrer de Villarroel, open 24 hours a day.

Carrer de Casanova, open from 7.45 am to 10.15 pm.

C/ Villarroel, 170. 08036 Barcelona. . This link opens in a new tab.
Public transport
Metro: Line 5 (blue), 'Hospital Clínic' station, 'Villarroel' exit
Bus: lines 63, 67, 68, 59
Taxis: there are taxi ranks on Carrer Villarroel, in front of the main entrance and on Carrer Casanovas, crossing Plaça del Doctor Ferrer i Cajigal
Car Parks
MPARK: in basements numbers 2 and 3 of the CEK building (Carrer Rosselló 149-153) there is a public car park, operated by EMPARK, with 139 spaces for cars and 16 spaces for motorbikes. The entrance to the car park is at Carrer Rosselló no. 149-153.
SABA: the SABA car park is located in front of Plaça del Doctor Ferrer i Cajigal, on the corner of Carrer Casanova and Carrer Rosselló.
Mobility
The Hospital buildings form a large 'U' shape, with the base located on Carrer Villarroel, where the main entrance hall is located, and the left and right wings: the right wing on Carrer Provença (south wing) and the left on Carrer Còrsega (north wing).
From the main entrance hall, we can access wards 2, 4, 6, 8, 10 and 12 (even numbers) on the right-hand side, along the main corridor, and wards 1, 3, 5, 7, 9 and 11 (odd numbers) on the left-hand side, also along the main corridor. All the wards have stairs and a lift, except wards 3 and 4, which have a lift but no stairs.
On the ground floor (Floor 1) and on Floor 3 there is a large corridor that connects all the wards.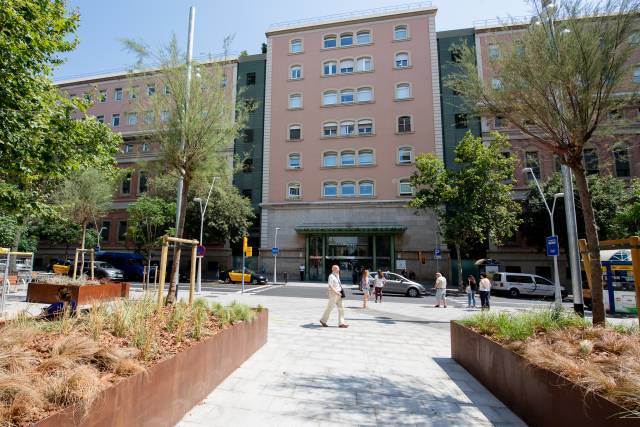 Move easily through the Hospital
Download the Clínic Maps app free of charge, and use it to help you access all parts of the Hospital Clínic easily and intuitively