Breast cancer is on of the most common tumors in women worldwide. It is estimated that one out of every eight women will suffer from it.

There are different types of breast cancer. Some are known as hormone-dependent or hormone-sensitive: the tumor cells have receptors for hormones such as progesterone or estrogens, which favor tumor growth. Seventy percent of breast cancers are hormone sensitive.

In patients with this type of breast cancer who have a high risk of metastasis, chemotherapy has been seen to be beneficial because of its direct antitumoral effects. In patients with low or intermediate risk, however, different effects have been observed depending on whether the women are premenopausal or postmenopausal. It is beneficial in premenopausal women but not in postmenopausal women.

Until know, the reason for these differences and the biologic mechanisms behind them were unknown. Now, a study led byr Núria Chic, Francesco Schettini and Aleix Prat, of the IDIBAPS research group Translational genomics and targeted therapies in solid tumors, has found the explanation. The study was published in the journal EbioMedicine of the Lancet publishing group.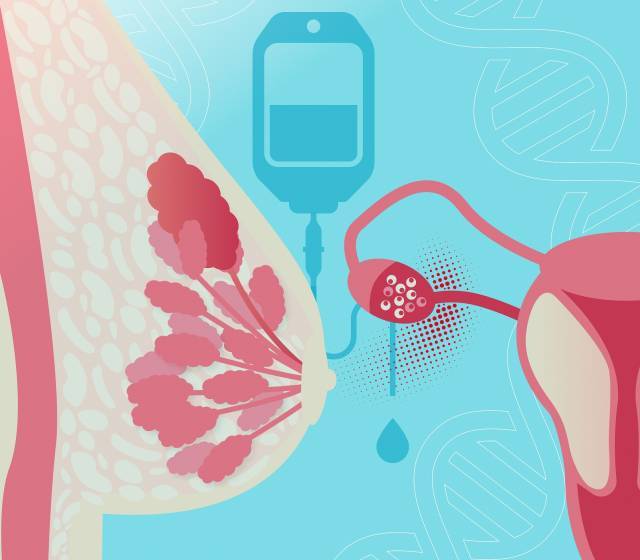 "In premenopausal patients, chemotherapy stops ovary function and this leads to a reduction in estrogens, which hinders tumor progression", explained Chic, a medical oncologist at Hospital Clínic with a PhD4MD grant from the PERIS program of the Catalan government. "Postmenopausal patients already have reduced levels of estrogens and chemotherapy does not therefore produce this anti-estrogenic effect, which would explain why it is less effective".

To reach these conclusions, the study analyzed 846 samples from patients with hormone-sensitive breast cancer who had undergone chemotherapy or hormone therapy. The researchers studied the genomic data before and during therapy to determine whether the chemotherapy was inducing an anti-estrogenic effect. "Surprisingly, we saw that the anti-estrogenic, anti-tumoral effect of the chemotherapy was only detected in premenopausal women", explained Prat, who is also head of the medical oncology department at Hospital Clínic, professor at Universitat de Barcelona, and chairman of SOLTI. This study confirms the suspicion in the medical community on the utility of chemotherapy in young women.

"The goal now is to design a large clinical trial in young women with low-risk hormone-sensitive breast cancer to show that if we can stop the ovaries from functioning, chemotherapy is not necessary. This would be a major step forward in reducing the use of chemotherapy in this group of patients", concluded Prat.
The study was carried out with the collaboration of SOLTI and with financial support from the program PhD4Md, SEOM, ESMO, Horizon 2020, and Marató de TV3.