Breast cancer is the most common tumor in women in Spain. It is estimated that one in eight will suffer from breast cancer throughout their lives. But it is not only female: male breast cancer accounts for 2% of all cases of this cancer. It is one of the tumors with better prognosis and higher rates of survival and chronification, thanks to the social awareness about its early detection.
Anatomy of the breast
The breast is a gland whose principal function is to produce milk when breastfeeding an infant.
Each breast overlies the front of the chest, located between the second and sixth ribs, and extends into the armpit at the point called Spence's tail. The breast is comprised of three major structures, the skin, subcutaneous tissue and mammary tissue.
Each breast contains multiple lobes and lobules that produce milk when lactating and that are interconnected through a series of tubes, called milk ducts or lactiferous ducts, which carry milk to the nipple.
They also include blood vessels to supply the glands with blood and lymphatic vessels to carry lymph away.
The lymphatic vessels converge into small, round formations called lymph nodes. The closest lymph nodes to the breast are the axillary (near the armpit) and internal mammary lymph nodes (on either side of the sternum, the bone at the front of the ribcage). Approximately 97% of breast lymph drains into the axillary (armpit) nodes, whereas just 3% drains into the internal mammary lymph nodes. The mammary glands are surrounded by fatty adipose tissue which gives the breast consistency and volume.
Between birth and adulthood, the breasts endure more changes than any other organ. Breast tissue experiences structural alterations under the influence of female hormones (oestrogens and progesterone); the breasts grow during puberty and are affected by menstrual cycles throughout the reproductive age period. Menopause brings about a reduction in hormone levels and a large part of the mammary gland atrophies (wastes away) and is replaced by fat.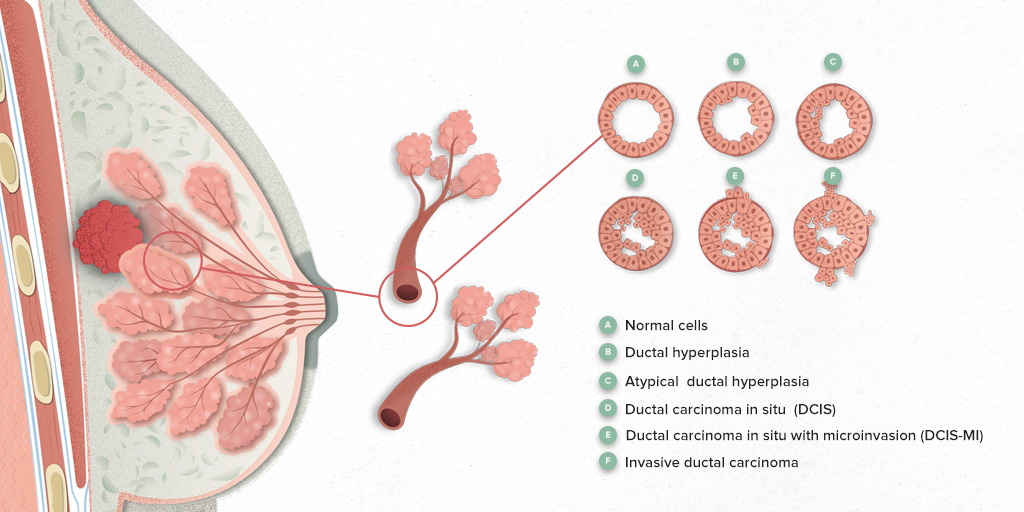 Tumours initially arise and grow inside milk ducts.
Intraductal carcinoma. If the malignant cells are contained within the duct and do not spread outside it, then it produces what is known as an intraductal carcinoma or ductal carcinoma in situ. The cells forming this type of cancer do not invade the surrounding mammary tissue, nor do they manage to affect the lymph nodes or other organs.
Invasive ductal carcinoma. The tumour breaks through the walls of the milk duct and therefore cancerous cells can enter into the bloodstream or lymphatic vessels.
What are the three main types of breast cancer?
Dr. Aleix Prat, a breast cancer oncologist at Hospital Clínic, answers frequently asked questions about breast cancer.
How many people does it affect?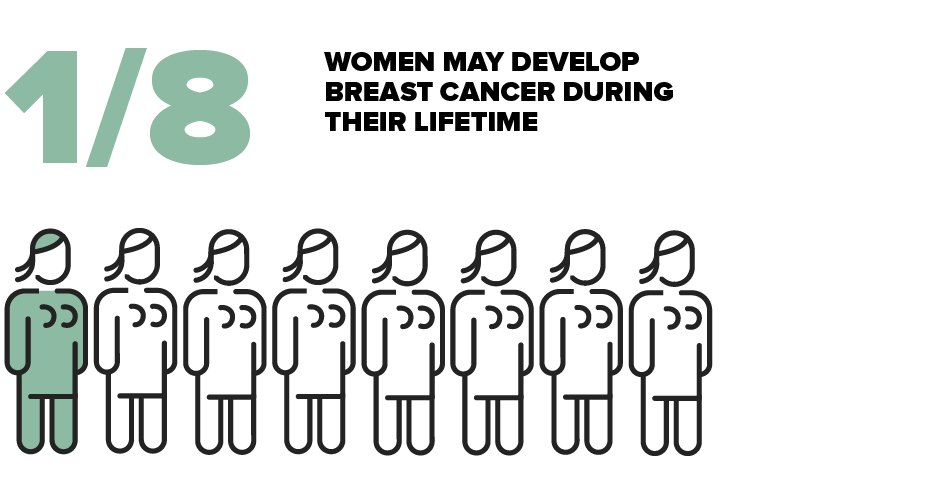 Breast cancer is one of the most commonly occurring malignant tumours in women worldwide. In Spain, it affects more women than any other cancer and represents 29% of all cancers.
It is estimated that approximately 1 in 8 women will develop breast cancer at some time during their lives.
While the breast cancer mortality rate has decreased in recent years, thanks to screening programmes and treatment advances, it is still the leading cause of cancer-related death in Spanish women.
The age of maximum incidence occurs in women over 50 years, but approximately 10% of cases are diagnosed in patients below the age of 40.
Can men have breast cancer?
Dr. Aleix Prat, a breast cancer oncologist at Hospital Clínic, answers frequently asked questions about breast cancer.
Breast cancer in men
Male breast cancer is very rare, representing just 2% of all breast cancers. Accordingly, the male:female breast cancer ratio is 1:100 in the United States.
As is the case for women, male breast cancer appears to be related to the exposure of ionising radiation and conditions which lead to hyperestrogenism, such as cirrhosis or Klinefelter syndrome (a chromosomal disorder in which males are born with at least one additional X chromosome, or female chromosome).
Between 15 and 20% of men with breast cancer have a family history of the disease in close relatives, particularly in cases that involve a BRCA2 gene mutation. Sisters and daughters of men patients with breast cancer are two to three times more likely to suffer from the disease.
The clinical presentation of male breast cancer is similar to that observed in women, but it tends to be detected 10 years later.
The most common type of male breast cancer is invasive ductal carcinoma. A lobular histology is much rarer than in women and lobular carcinoma in situ has never been observed in men.
Diagnosis takes into account the size of the tumour, the condition of the lymph nodes, and the presence of hormone receptors and other molecular markers, such as HER2. The most important factor when determining the prognosis is the clinical stage of the tumour. This is quantified by the TNM system which assesses the size of the tumour, the pulmonary lymph nodes and whether there is any metastasis.
It is treated in a similar manner to breast cancer in women, although the preferred surgical technique is a mastectomy because men tend to have less mammary tissue and there is no possibility of conservative surgery.
Breast Cancer explained in first person
Appointment of Aleix Prat, Oncologist
Breast cancer is a disease and even though it is a cancer, the majority of cases are cured.
Appointment of Ana, Patient
L'actitud positiva i la confiança en l'equip mèdic, és fonamental per seguir endavant. Perquè no estàs sola.
We are sorry, we are working to improve PortalCLÍNIC. Help us become better, tell us why
An error has occurred and we were unable to send your opinion, please try again later.
What is Cancer?
General information about Cancer
Read more
Substantiated information by: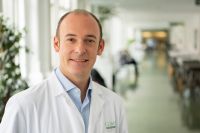 Aleix Prat Aparicio Oncologist Oncology Department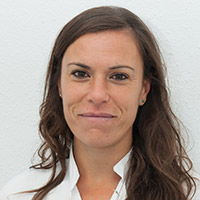 Ana Rodríguez García Nurse Oncology Department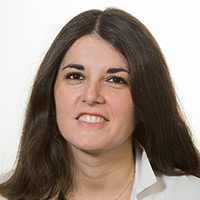 Bárbara Ádamo Oncologist Oncology Department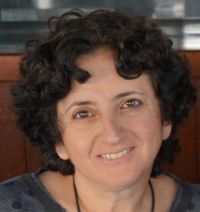 Montserrat Muñoz Mateu Oncologist Oncology Department
Published: 20 February 2018
Updated: 20 February 2018
Subscribe
Receive the latest updates related to this content.
Thank you for subscribing!
If this is the first time you subscribe you will receive a confirmation email, check your inbox
An error occurred and we were unable to send your data, please try again later.
Breast Cancer related news