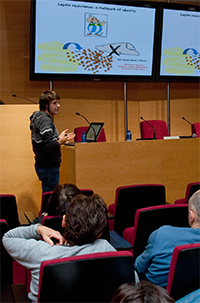 It is well known that the hormone leptin plays a central role on the regulation of hunger in the brain. Many obese people are resistant to the effects of this hormone. The work led by Dr. Marc Claret, Miguel Servet – ISCIII researcher at IDIBAPS, describes how a diet rich in fat is able to alter appetite regulation mechanisms through its effects on the protein Mitofusin-2 of the hypothalamic POMC neurons. This discovery explains for the first time a molecular mechanism relating the endoplasmic reticulum stress, resistance to leptin and deregulation of appetite and body weight.
Previous works reported that hypothalamic neurons resistant to the effects of leptin, which inhibits the desire to eat food, suffered endoplasmic reticulum stress. When this organelle does not work properly, proteins are not well formed and accumulate interfering some cellular functions. The work led by researchers from IDIBAPS demonstrates how the endoplasmic reticulum stress is preceded by a physical separation between the endoplasmic reticulum and mitochondria.
Mitochondria are numerous inside cells and are often attached to the endoplasmic reticulum through Mitofusin-2 protein. The presence of this protein decreased when a high fat diet was administered to mice. The details of this mechanism were also be observed through experiments in transgenic mice lacking Mitofusin-2.
You can read at the IDIBAPS website a more detailed article about the work published in Cell.
Article reference: Marc Schneeberger, Marcelo O Dietrich, David Sebastián, Mónica Imbernón, Carlos Castaño, Ainhoa García, Yaiza Esteban, Alba Gonzalez-Franquesa, Ignacio Castrillón Rodríguez, Analía Bortolozzi, Pablo M Garcia-Roves, Ramon Gomis, Ruben Nogueiras, Tamas L Horvath, Antonio Zorzano and Marc Claret. Mitofusin-2 in POMC neurons connects ER stress with leptin resistance and energy imbalance. Cell, Volume 155, Issue 1, 172-187, 26 September 2013. 10.1016/j.cell.2013.09.003 Read the article