INTERVIEW
September 5 2023
2023-09-05
Dr. Mauricio Raigosa: "Before, many trans people came on their own to have surgery, now the situation has changed"
In 2008, the Hospital Clínic Barcelona started to perform gender-affirming surgery on trans people. Dr. Mauricio Raigosa has carried out over 400 gender-affirming surgeries.
Dr. Mauricio Raigosa
Head of surgery for transgender people. Plastic Surgery Service.
Dr. Mauricio Raigosa is the professional who carries out gender-affirming surgery on trans people at the Hospital Clínic. He is a collaborating professor at the Faculty of Medicine and Health Sciences of the University of Barcelona and a member of the Spanish Society of Plastic and Reconstructive and Cosmetic Surgery.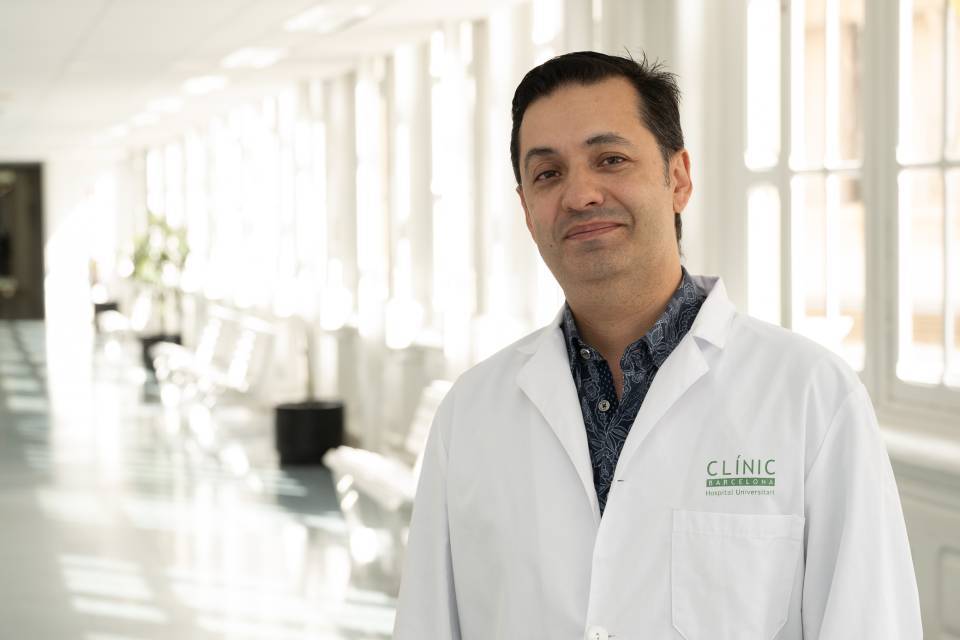 What types of gender-affirming surgery can be performed?
To begin with, I would like to clarify that we currently talk about gender-affirming surgery and not gender reassignment surgery, as many people call it. This speciality groups together different types of surgery that can be performed on trans people. We perform vaginoplasty on people who were born with male genitalia but identify as female. That is to say, we convert male genitalia into female genitalia both in form (with clitoris, labia minora, labia majora, etc.) and in function. In other words, after the operation these people will be able to experience pleasure during sexual relations.
Surgery is also possible for people who were born with female genitalia but identify as male. These surgeries are extremely complex, the results are not very good and there are many postoperative complications. We have performed very few of these surgeries because, as I said, the results are not so good and they have a very high complication rate.
We also perform mastectomies, i.e. we remove breast tissue to achieve a flat and symmetrical chest that is anatomically and aesthetically masculine. At present, we are the only hospital in Catalonia that carries out this type of surgery.
All these surgeries are covered by the Government of Catalonia's public health system.
How many surgeries do you perform each year?
At the Hospital Clínic and, in agreement with CatSalut, we perform 15 vaginoplasties and 15 mastectomies each year. However, it is true that the waiting list is long.
How does a person get to the Hospital Clínic to have a vaginoplasty, for example?
Patients who are to undergo surgery come to us through Trànsit, which is the referral unit and provides support, counselling and assistance to trans people. They pass us the list of people who are to undergo the operation based on the first time they visited the Service.
When they arrive at one of the units, they are normally provided with hormone therapy and a support process. They then have to wait for a long time, because the waiting list is very long. Once they reach me, I carry out a clinical assessment to make sure there are no contraindications and we put them on the waiting list.
"In Catalonia, there are between 600 and 700 people waiting for a vaginoplasty operation".
How long do people have to wait?
In Catalonia, there are between 600 and 700 people waiting for a vaginoplasty operation. There are 273 on the waiting list at the Hospital Clínic and we only carry out 15 operations each year. You just need to do the maths...
What does vaginoplasty surgery consist of?
It is a complex surgery that takes 2-4 hours. First of all, we have to make a tunnel with the prostate, the bladder and the urethra on the upper part and the intestine on the lower part. This space we create will be the vagina.
And how do you do it?
There are different techniques: penile inversion; colovaginoplasty; and robotic peritoneal flap vaginoplasty. The technique used depends on the size of the penis. If we have enough penile skin to line the vaginal space, we use the penile inversion technique, which is the simplest.
Nowadays, we often find that the penis is shorter, because the adolescents' puberty is suppressed by hormone therapy—so they do not develop the effects of male puberty—and that causes the penis to be smaller. In these cases, we use the colovaginoplasty technique. The only difference between the two techniques is the way of lining the tunnel we create at the start.
...
We then create external female genitals that are as similar as possible, both in form and function, to those of a cisgender woman. Therefore, we have to recreate a clitoris, a clitoral hood, labia minora and labia majora.
How?
With penile skin we create the clitoris and the labia minora. We keep the veins, arteries and nerves to ensure sensitivity is maintained in these areas. We then remove the urethra and join it to the labia minora and the clitoris. Next, we remove the testicles, stretch the scrotal skin and use it to make the labia majora.
"Trans people can have orgasms too".
Physical reconstruction is one thing, and creating a new bodily function is another. How is this done?
What we do is to create a vagina and a vulva, but also ensure the person can have sexual relations and, at the same time, experience pleasure. Trans people can have orgasms too. The prostate is not removed, so they are women with a prostate. The prostate also allows them to have pleasure because it is a highly erogenous zone. We recommend that, from the age of 50 on, patients go to a urologist for follow-up visits.
What is like recovering from this type of surgery?
Recovery takes 3-4 weeks. After the operation, patients usually stay in hospital for 5 nights and it is important to do exercises with dilators in order to maintain the new cavity that has been created in the body.
For how long?
In theory, if penile inversion is carried out, the dilations need to be done for life. They start with a very strict protocol, three times a day for 20 minutes for two months and then gradually less often. After two years, two dilations a month are enough.
What expectations do people have when they go to the clinic?
They come with very high expectations. For them, this surgery is the culmination of a very long process. However, we must bear in mind that there are trans people whose main desire is to have surgery and have female genitals. But there are also trans people who are happy with having a penis and enjoy having sexual relations with it. Many people tell us that "we have changed their life" or that "they have been born again".
And many consider the process to be completed when they are able to change their voice…
The gender-affirming process not only involves changes in the genitals. Some people work on their voice and have surgery to make it more feminine. These surgeries are led by the ear, nose and throat (ENT) team and speech therapists. The surgical procedure is known as a glottoplasty.
Has there been a social change in the acceptance of transgender people?
Yes, there has been a great change. Recently, a modification was made to the categories in the International Classification of Diseases (ICD-11): transsexualism is related to a person's sexual health, and is not a mental or behavioural disorder, which is why it is appropriate to define it as gender incongruence.
"When I started performing this type of surgery, in many cases the patients came alone; now most of them come with their parents, brothers, sisters, friends…".
Is there still a lot of social stigma?
I think we now live in a more tolerant society, but there is still a long way to go in this area. I notice this change a lot in the people supporting patients who come for surgery. When I started performing this type of surgery, in many cases the patients came alone; now most of them come with their parents, brothers, sisters, friends… before they were people who knew what wanted but who came alone. Now, they still know what they want, but they are supported in this process.
What profile of person do you operate on most?
We receive people of all ages. We have even operated on people in their 70s. But now, of course, we are increasingly seeing young patients.
And personally, how do you find this process?
When, after an operation, someone comes to your surgery and says that you have completely changed their life and they are so grateful for it… it's fantastic. It is an honour to do what enjoy doing, to have good results, and to see how you change people's lives.