INTERVIEW
July 17 2023
2023-08-02
Dra. Marta Farrero: "The death of a patient is also a tool to strengthen our work"
Heart failure affects more than 10% of people over 70 years of age and is associated with a high mortality rate. The Hospital Clínic has a specific unit to deal with this disease, made up of around 50 professionals from different disciplines. In addition to pharmacological treatment and devices, healthy lifestyles are key to the prevention and evolution of the disease.
Dra. Marta Farrero
Head of the Heart Failure Uni
Dr. Marta Farrero is head of the Heart Failure Unit at the Hospital Clínic Barcelona and member of the IDIBAPS 'Atherosclerosis, coronary disease and heart failure' research group. She is secretary general of the Spanish Cardiology Society and, until a few months ago, was president of the Heart Transplantation Group of the International Society for Heart and Lung Transplantation (ISHLT).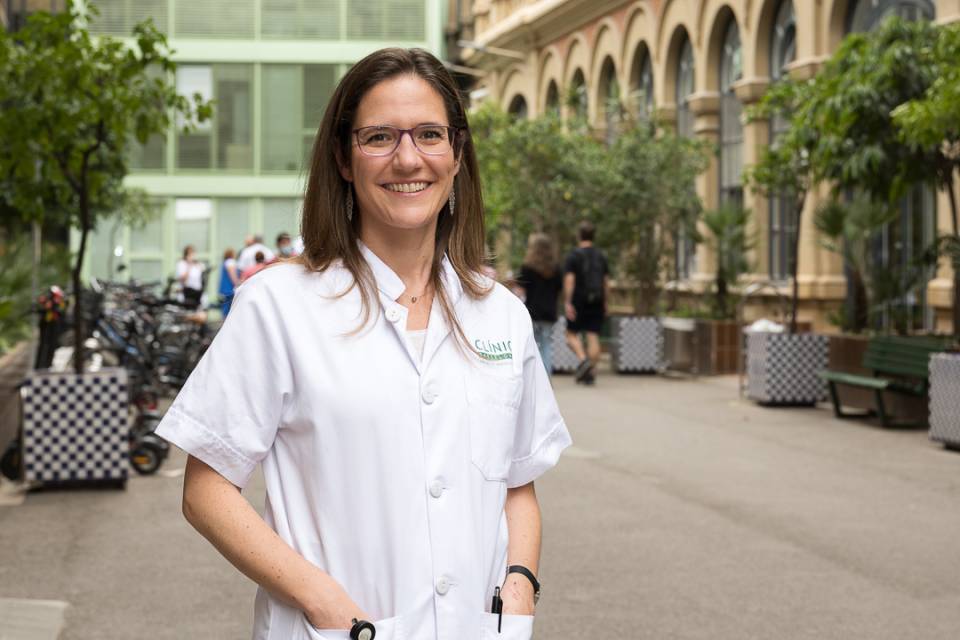 What is heart failure?
Heart failure occurs when the heart is unable to pump blood properly to the rest of the organs in the body. This causes patients to feel very tired or have difficulty breathing. Everyday activities such as walking, climbing stairs or getting dressed can become 'impossible'. It is the most common cause of hospitalization in people over 65, but can affect patients of all ages.
And, in 2018, the Hospital Clínic Heart Failure Unit was created....
It is a very cross-cutting unit and we work in a highly coordinated way with various departments in the hospital and the region. We have 47 members, most of whom are healthcare professionals and, within the Cardiology Service alone, we monitor around 1,000 patients and provide 5,500 consultations each year.
In the Unit, we treat heart failure at all stages of life, and that means that there are paediatricians–in coordination with the Hospital Sant Joan de Déu–cardiologists, obstetricians, internists, nephrologists, A&E doctors, nursing staff... and we have and provide a very global vision. We also work in coordination with our area of influence (the Eixample Esquerra, through the AISBE) and with referral hospitals in the C-17 alliance such as Mollet, Granollers and Vic. We are also a national referral hospital and patients come to us from almost all the autonomous communities, most of them from the Balearic Islands, and also from Andorra.
You say that you see patients of all ages, but the disease is above all associated with older patients, isn't it?
Yes, most of the patients we see tend to be older people. Heart failure is the most common disease in the field of cardiology and we see that its prevalence is increasing in relation to the ageing of the population and the progressive increase in risk factors. Heart failure is the final stage of any heart disease. In the past, patients with heart disease had a high mortality rate, and so many of them never developed heart failure. Improvements in the treatment of heart attacks, valve problems, arrhythmias and congenital heart disease, for example, mean that patients survive long enough for their heart disease to evolve and degenerate into heart failure.
"Having good habits is the best investment we can make to live longer and live better".
Healthy lifestyle habits are key to the development and evolution of the disease.
Heart failure ends up being the final stage of any type of heart disease. If we had better healthy lifestyle habits, we wouldn't have so many cases, that's for sure. Having good habits is the best investment we can make to live longer and live better. We must continue to do a lot of work on prevention. For example, obesity is becoming an epidemic; associated with a sedentary lifestyle and our poor eating habits.
Has it changed a lot?
It's getting worse. Our activity and our way of eating have changed a lot over the last 100 years, in quantity and quality. It cannot be compared with the way of life of people who have a vegetable garden, who work in it and harvest fresh fruit and vegetables. The current pace of life causes the body, and therefore the heart, to suffer.
"There is a clear relationship between habits, health and socio-economic development".
What does that mean?
Well, that the model of society affects people's well-being and health. We are moving from a society where food is scarce and physical activity at work is the predominant form, to a society where we move very little and base our diet on processed foods that we often eat without being hungry. In a third evolutionary step, some people are now taking more care of themselves: they exercise and seek to return to that initial diet of fruit and vegetables. However, paradoxically, in a more developed society, this return to the original habits can be more expensive and inaccessible for some. There is a clear relationship between habits, health and socio-economic development.
How does the disease affect patients' mental health?
There is a very close relationship between mental health and cardiovascular disease. It is difficult to say which comes first, the chicken or the egg. It is estimated that over half of patients with heart failure have suffered from anxiety or depression. Physical discomfort leads to mental discomfort and vice versa; habits get worse, it becomes difficult to sleep, fatigue and sensitivity to any physical symptom increase, and self-healing and compliance with treatment decrease significantly. For example, there are studies that show that when a spouse dies, the risk of a heart attack increases. Patients enter a vicious circle of physical and mental discomfort, which we have not had sufficient impact on.
How have treatments changed in recent years?
In recent years, the treatment of heart failure has changed a great deal: we have new, very effective drugs and very sophisticated technology that makes significant improvements in terms of survival and symptoms, such as new pacemakers or artificial heart systems. There has been an explosion in the treatment of heart failure.
And how to you foresee the future?
With optimism and concern. Optimism because we have more and more possibilities and treatments to offer our patients. Concern because these advances have a high financial cost and the population with heart failure is becoming more and more numerous, because the sustainability of the system must be analysed with great care
Does that mean that you have to choose which patients to treat?
If we do not rationalize it well and if we do not know how to prevent the disease, we will find ourselves in difficult situations.
"What we have to do is attempt to achieve the democratization of this disease. We have to rationalize the resources and the efforts; and that also involves delivering very good diagnoses".
For example?
There are drugs that cost thousands of euros, we implant many pacemakers and defibrillators, we treat valves percutaneously, and we perform complex surgeries… Meeting this cost for all patients is an almost impossible challenge.
What we have to do is attempt to achieve the democratization of this disease. We have to rationalize the resources and the efforts; and that also involves delivering very good diagnoses.
And how can this be done?
Well, by assessing what each patient really needs, and not doing it simply because we have the capacity to do so. And by placing great value on less expensive and 'glamorous' but also very effective strategies.
For example, cardiac rehabilitation is an area that we need to exploit more and it has been proven that it reduces the risk of readmission for heart failure by 30%, the same as medication!
Is it difficult to manage this situation?
The management of health resources is one of the greatest challenges of our time. It is key to value the types of treatment we have, considering all the possible strategies and trying to adjust them very closely to what the patient needs and wants. Not only looking at the costs but also at what they can really contribute in terms of quantity and quality of life.
I am a great believer in prevention, and telling someone that they should do more physical exercise and lead a healthier life doesn't cost me anything, because I know that it will work. I don't see it as giving up more complex treatments, but as an opportunity to avoid needing them.
In advanced heart failure, it is sometimes more difficult. It affects 10% of patients and they have a life expectancy of 6 months. This disease kills more than bowel cancer and breast cancer, but we are not very aware of it… Some people are lucky enough to be able to undergo a heart transplant, and here we have to be very selective because we have few organs and we have to choose very carefully who will benefit the most. A transplant is a spectacular and magical moment! When patients with advanced heart failure have their heart 'changed', and in 15 days they are at home and can start to live a fairly normal life, it's like a miracle.
"If one of your patients dies and it doesn't affect you, what kind of doctor are you?".
What is your relationship with the patients?
The patients are our raison d'être and the cornerstone of the Heart Failure Unit. In fact, we plan to incorporate one into the organizational structure.
There are some very gratifying success stories, and fortunately we have lots of them! I remember recently a man who was in a very bad way, he was suffocating… we treated him, monitored him...we pulled out all the stops, and them some. And two months ago he came to my surgery with the 'Way of St. James' diploma, certifying that he had walked 400 km, as a gesture of gratitude to the team. That made me very emotional.
And when it goes wrong?
When it goes wrong, but we have done everything possible medically and surgically, and moreover we have able to support the patient and the family during the entire process, I think that is gratifying too. For me, receiving the gratitude of patients and family members even when the evolution has not been good, and even when the patient finally dies, is a sign of a relationship that gives me goose bumps. These are moments that also give meaning to our work (she gets emotional). The day I don't care about suffering or death, and it doesn't affect me a bit on a personal level, I think I'll have to change job. If one of your patients dies and it doesn't affect you, what kind of doctor are you? The death of a patient, when everything has been done with the utmost care and rigour, is a tool to strengthen what we do.
You don't have a good relationship with death, I see…
On the contrary: we must use the certain existence of death as a reason to live. Life is fragile and therefore it is also precious. They are two sides of the same coin. We must normalize death and be able to treat it in a natural manner. What we can neither naturalize nor allow is suffering. For this reason, in our day-to-day work, we are working hard on palliative treatment programmes, which must be integrated into our daily activities with specialized professionals who work in coordination with the patient's usual doctors. As regular treating doctors, we can't abandon patients who we know will end up dying. We must not only think about living well; dying well is also important.
Were you sure you wanted to be a doctor?
I don't have anyone in my family who is a doctor. My uncle is a nurse and maybe that influenced me in some way. Actually, I wanted to be a journalist because I love reading and writing. I thought that I would benefit from a more scientific training in order to do more 'solid' journalism. But when I started to work with patients in my third year of medicine, it became clear to me that this was what I wanted to do and wanted to be. There was no escaping it!
And now you are the head of the heart failure unit...
My mentor was Dr. Fèlix Pérez and, unfortunately, a couple of years ago he died. The fact that I am the head of the Unit is bad news, because it means that he is not here and we miss him. He should be the head. I see the new responsibility as a service to the hospital. From my current position, I can fight harder to improve processes, to improve results… I find that exciting and very useful. But it involves a certain amount of sacrifice, because it means taking my eyes off the patients, which is what really motivates me, and thinking more about the overall picture and the global strategy.
"We really like you being here because you add a bit of colour to things". And I think to myself: well, and maybe a few good ideas too!".
Have you had to make more of an effort professionally just because you are a woman?
We all work very hard and make a huge effort, but maybe women from the outset have to prove themselves a bit more, or we have to listen to comments that wouldn't be made to a man. For example, the day I was given a permanent position at the hospital, I remember a really inappropriate comment about motherhood. I often take part in scientific societies where most of the people at the meetings are men in suits. And more than once they have said to me: "we really like you being here because you add a bit of colour to things". And I think to myself: well, and maybe a few good ideas too!
Fortunately, all this is evolving and improving, sometimes a little slowly, but we are seeing changes from generation to generation. Let's hope that this progress will continue in the future.