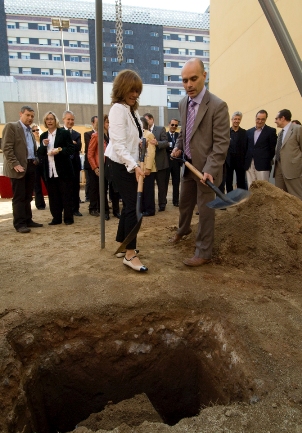 The Eixample Esquerre neighborhood of Barcelona will have a new primary care center (CAP), which will provide coverage for a population of 37,925 people. The Catalan Minister for Health, Marina Geli, and the Mayor of Barcelona, Jordi Hereu, today presided over the laying of the cornerstone of the future facility, located at Carrer Comte Borrell,  305. The facility will be managed by the Eixample Primary Health Care Consortium (CAPSE), a body composed of the Catalan Health Care Institute and Hospital Clínic, Barcelona. The center will house the primary care team of Barcelona basic health area 2, which is currently located in the outpatient building of Hospital Clínic, on C/. Roselló. The center will have a total area of 2636 m² and the works will cost €3.6 million, not including equipment.
The increase in the population and the limited space of the C/ Roselló center, known as CAPSE Roselló, has led to the physical relocation of the center, which will improve accessibility and comfort for the users in this area. There will be more space for quality care, the main target of which will be acute and chronic disease, both in the center and in the home, with special emphasis on aspects of disease prevention and health promotion, in terms of both individuals and their families and community.
The new Comte Borrell center will provide family medicine, dentistry, nursing, social work and customer care services. It will also have a social services center of Barcelona City Council. The primary care team will consist of family doctors, dentists, nurses, social workers, auxiliary clinical staff, and customer care staff.
There will also be some medical specialists from Hospital Clínic working with a single medical record model.