The commemorative event was opened by Joan Guàrdia, rector of the University of Barcelona, Joan Gómez Pallarès, CEO of the Research and Knowledge Department and chair of the IDIBAPS Board of Governors; Josep M. Campistol, CEO of Hospital Clínic Barcelona; Lluís Calvo, institutional delegate of the CSIC in Catalonia; Elías Campo, director of IDIBAPS; and Rosa Vilavella, general manager of the Institute.
After the welcome speeches, Michael Stratton, director of the Wellcome Sanger Institute, gave a lecture on "Mutations in normal human cells". Elías Campo then took the floor once more to summarise "25 years producing excellent biomedical research to improve people's health".
In an event presented and conducted by IDIBAPS director of strategy Michela Bertero, tribute was also paid to Ramon Gomís, the institute's former director. Andreu Mas-Colell, president of Barcelona Institute of Science and Technology, and IDIBAPS researchers Rosa Gasa and Marc Claret took part in this tribute. Finally, Elías Campo presented Ramon Gomis with an institutional gift, a sculpture by Alejandro Monge entitled Good Night.

The event closed with speeches by Catalan Health Minister Manel Balcells, Joan Guàrdia, Joan Gómez Pallarès and Elías Campo.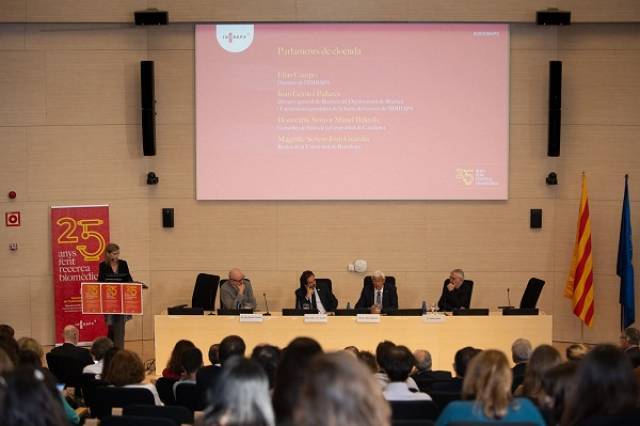 Finally, the celebration, originally scheduled to take place towards the end of 2021 but postponed due to the pandemic, ended with a musical performance by a quintet from the University of Barcelona Orchestra, after which an aperitif was served for the 300 attendees.
The press release celebrating IDIBAPS' 25-year trajectory is available at this link.