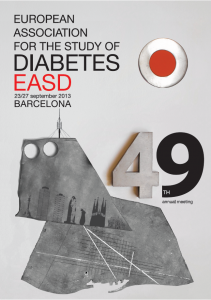 The President of the EASD, Prof. Andrew J.M. Boulton, will open the inaugural meeting at the Claude Bernard Hall, welcoming 20,000 physicians and scientists from over 120 countries. Since then, researchers from academia and the pharmaceutical industry around the world will present new developments in fields such as epidemiology, prevention, therapeutic education, health organization, basic and clinical research. It is therefore a very significant conference for diabetes, for the promotion and international expansion of the city of Barcelona and for Catalonia biomedical research as a whole.
It is estimated that diabetes affects over six and a half million people in Spain , and about one million people in Catalonia. The disease and its complications, including heart disease, blindness and kidney and nervous system damage are acquiring epidemic proportions at a great social and economic cost. So diabetes is a disease that requires great attention by the scientific community as well as by the society and its political representatives.
In the clinical section, the results and repercussions of two large clinical studies should be underlined. The first one is the UK Prospective Diabetes Study (UKPDS ), which initial results were also presented in Barcelona in 1998 as part of the same conference with a major impact on the management of type 2 diabetes. On the other hand, the impact of the DCCT (Diabetes Control and Complications Trial) conducted in patients with type 1 diabetes, which established the modern management paradigms for this disease, will also be reviewed and updated.
In the area of basic research there are many areas of interest, including the influence of the environment on the disease and the new experimental cell therapy strategies. It is increasingly clear that a healthy lifestyle with a balanced diet, having some exercise and avoiding toxics is helpful to prevent and manage diseases like diabetes. Epigenetic studies begin to explain the molecular causes of these beneficial effects. The discovery of processes which allow the regeneration of insulin producing pancreatic beta cells also provides important information for the design of new therapeutic strategies.
Finally, diabetes is also raises public health and policy questions, and the meeting represents a platform to discuss these social interest issues. The European Medicines Agency (EMA) and the Directorate General for Research and Innovation of the European Commission will be represented in the symposia, to discuss the future prospects of research funding and the approval of new drugs in Europe. On the other hand, the meeting is a meeting point for diabetologists and diabetes patients who work together to improve education and patient care. Patient associations are particularly active and have a great presence in the Congress.
More information at: www.easd.org