The Hospital Clínic Barcelona has started to carry out uniportal robot-assisted thoracic surgeries (U-RATS), which are performed through a single orifice. With the application of robotic technology in these operations, the hospital is now performing all types of robot-assisted thoracic surgery.
Minimally invasive surgery is currently the approach of choice in thoracic surgery. The most common operations performed by the Thoracic Surgery Service are those focused on the treatment of lung tumours, both malignant and benign, diseases of the mediastinum, the thoracic cavity, thoracic boundary pathologies as well as pleural disorders.
At the Hospital Clínic, in the surgical treatment of lung cancer, over 85% of the lung resections are performed using video-assisted thoracoscopic surgery (VATS), in which small incisions are made to remove the tumour. However, video-assisted thoracoscopic surgery has several limitations, such as the lack of articulation of the instruments and the two-dimensional view.
In this respect, robot-assisted thoracic surgery (RATS) offers a wide range of high-precision movements in all its instruments and improves visibility with a high-definition, immersive, three-dimensional view. Moreover, its fixed and defined rotation point reduces pressure on the thoracic wall and intercostal nerves. This reduces postoperative pain, shortens hospital stays, and improves patient recovery after surgery.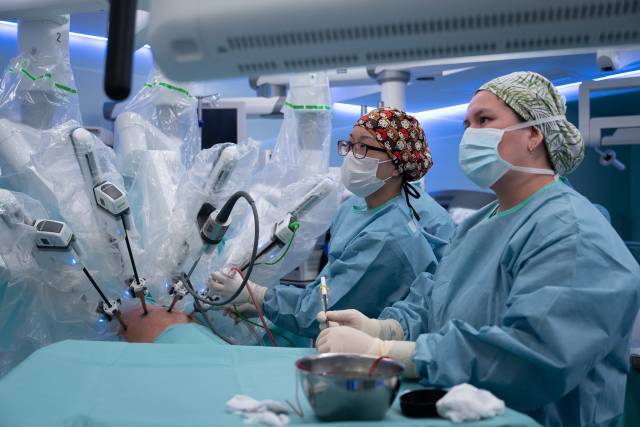 With the performance of uniportal robot-assisted thoracic surgeries (U-RATS), the least aggressive method since a single orifice is used to insert the robotic technology, the hospital performs all types of robot-assisted thoracic surgery, the conventional or multi-RATS and U-RATS.
"Robotic surgery provides us with the latest technology to perform all types of surgery, which means that we are increasingly performing more complex surgeries using minimally invasive techniques", says Dr. Ricard Ramos, head of the Thoracic Surgery Service at the Hospital Clínic. "The idea is for robotics to be a tool that can make use of all the equipment available to the patient", he adds.
Photographs about robotic thoracic surgeries: