It has been shown many times: good eating can help us stay healthy. Specifically, when we eat healthily, we reduce the risk of obesity, heart disease, neurological disease, diabetes, high blood pressure, hypertension and even certain types of cancer. But what does it mean to eat healthily?
Although we all know some basic guidelines for eating better, the truth is that we often do not have the necessary tools to learn how to organise a healthy, varied and balanced diet. And it is not easy at all! The concept is complex, because it is influenced by cultural, social and economic factors; however, there are certain common features to help recognise it. Eating healthily means being able to follow a diet that includes a variety of nutritious food, with the right amount of calories our bodies need while staying hydrated.
A healthy diet should mainly be:
Balanced. It must provide nutrients in the appropriate proportions for the needs of each person according to their age, sex and life situation.
Enough. It should include the amount of food needed to maintain nutrient input and weight.
Varied. It must have a diversity of food that ensures all nutrient requirements are covered.
Appetising. It must be capable of being maintained over time, in addition to activating the senses. That is, of vision, smell and taste.
Sustainable. The acquisition of food and its impact on the environment must also be taken into account.
Thus, a diet meeting these features must be healthy and include foods with a high content of beneficial nutrients for the body, such as antioxidants, vitamins, minerals, fibre and unsaturated fats, such as oleic acid and omega-3. Vegetables, fruit, whole grains, olive oil, legumes, nuts, fish, shellfish, eggs, dairy products and white meat. As well as seasoning with aromatic herbs and spices.
A healthy dish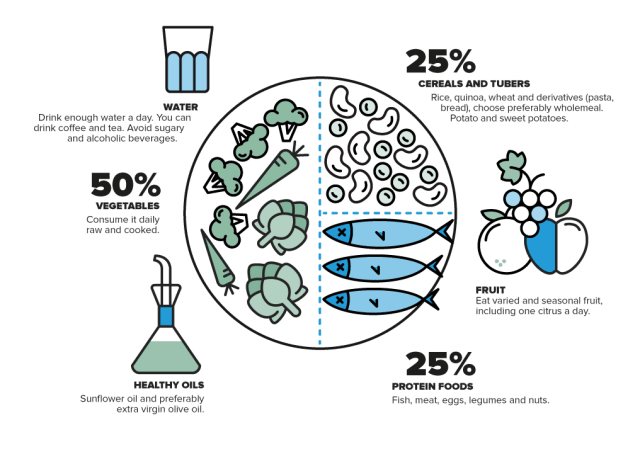 This graph shows the amounts main meals should have to help maintain a balanced diet.
Balanced menu
Once we know how to organise our dishes, we only have to learn how to prepare the complete menu. Here are some tips:
Organising the menu. The best way to eat a healthy diet is by organising a weekly menu as opposed to improvising. Therefore, a main meal menu should be planned and a shopping list prepared to be clear what is needed while shopping.
Organising the meals. The best way to eat food in an orderly fashion is to plan meal times and avoid snacking between them. If something unforeseen occurs, it is a good idea to have healthy foods on hand to snack on, within your healthy eating meals plan.
Seasoning. The amount of salt and sugar you cook with at home must be under control. Aromatic spices and herbs can help a lot to enhance flavours without using salt.
Drinks. Drink is also part of a good diet. Water is the first option and can be taken alone or with a few drops of lemon, a few mint leaves, a few slices of cucumber or by making an infusion.
Healthy and inexpensive buying. You may think that healthy eating is more expensive; however, this has been proven not to be the case for a number of reasons. First, if seasonal and local food is purchased, its price is more affordable and it is often more nutritious and tasty. Second, traditional recipes use all edible parts of a food, while leftovers from previous meals are reused in other recipes. And finally, its impact on health has an incalculable price.
A healthy diet example
BREAKFAST

Coffee with milk

Wholewheat bread with tomato and extra virgin olive oil

Orange

MID-MORNING SNACK

Plain yoghurt

LUNCH

Green salad

Fish paella

Grapes

Wholemeal bread (optional)

AFTERNOON SNACK

Walnuts

DINNER

Escalivada (grilled vegetable dish)

Spanish potato omelette

Pear

Wholemeal bread (optional)