Human Resources Strategy for Researchers (HRS4R)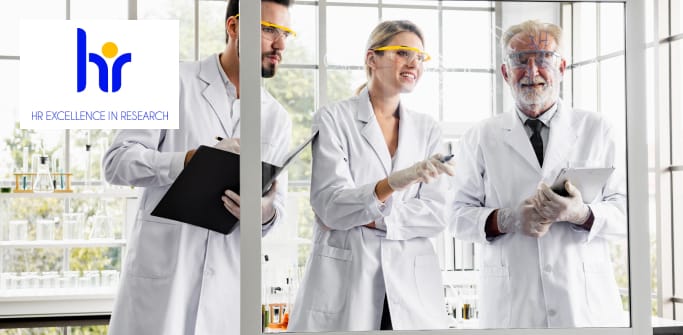 Professional aspects, attracting talent, work conditions, and supervision of research personnel are essential aspects at IDIBAPS-Fundació Clínic. Thus, with the aim of ensuring a more stimulating and favorable working environment, and with the European Charter and Code for Researchers for recruiting researchers, the institution is working on a process of continuous improvement known as the Human Resources Strategy for Researchers (HRS4R).
On 25 April 2015, IDIBAPS-Fundació Clínic obtained the "HR Excellence in Research" accreditation from the European Commission. Since then, many improvement actions have been undertaken with the aim of benefiting the entire research community.
Documents relating to HRS4R
Achievements:
The research community gives its support to the implementation of HRS4R.
Two new committees are created: the Training Committee (2016) and the Ombuds Committee for research (2017).
New appointments improve the makeup of the institute's decision-making bodies.
The steering committee and the director's advisory committee have become more inclusive and gender-equal since 2016.
Stepping-stone program for training in transversal aspects implemented.
Since 2016, this training program provides predoctoral (R1) and postdoctoral (R2) researchers with new knowledge and tools.
Promotion of Open, Transparent, Merit-Based Recruitment (OTM-R).
Different actions (2016 and 2017) and the subsequent approval of the OTM-R policy of the institute (2019) include improvements for carrying out OTM-R.
Design of the "Welcome pack" to welcome new employees.
Since 2017, the welcome guide provides key information to people starting work at our institution.
The institute's strategic plan (2018-2022) includes HRS4R.
HRS4R forms part of the institute's strategy formally following approval of the strategic plan.
Help provided to the "PhD community" in the organization of the first PhD Day.
In 2019, support was provided to the association that groups together the IDIBAPS predoctoral researchers to help them carry out this activity to promote interaction between them.
Some institutional policies are updated and new ones created.
In 2019, a new version of the research career strategy was approved, together with the new regulations for creating spin-off companies, and the code of good scientific practices was updated and expanded.
The communication campaign "Female talent: women scientists speak" is launched.
The institute promoted gender equality throughout 2019-2020 by means of 9 short videos broadcast on social media, in which the stars are some of its researchers.