INTERVIEW
October 3 2022
2022-10-17
Mercè Balcells: "People who have an addiction and want to be cured must play an active role in their recovery, otherwise it is impossible"
Eighty per cent of the population of our country has consumed alcohol in the last year. It is estimated that around 10% are daily drinkers and over 50% meet the criteria of risky consumption with a significant impact on their physical and mental health. The last population-based survey carried out among secondary school students on their drug use (ESTUDES 2021) puts alcohol consumption among students aged 14 to 18 at 70% in the last year. Twenty-five per cent consume cannabis and it is estimated that 3% of all the students in our country already engage in problematic use of this drug. We talk to Dr. Mercè Balcells about how the Addictive Behaviour Unit works and, among other things, about how COVID-19 has affected patients with addictions.
Dra. Mercè Balcells
Head of the Addictive Behaviour Unit
Dr. Mercè Balcells is a psychiatrist and head of the Addictive Behaviour Unit at the Hospital Clínic de Barcelona and member of the 'Addictions' research group at the August Pi i Sunyer Biomedical Research Institute (IDIBAPS). She is also vice-president of GETEM (Spanish Working Group on Motivational Interviewing) and member of the Board of Directors of Socidrogalcohol (Spanish Scientific Society for the Study of Alcohol, Alcoholism and other Drug Dependencies).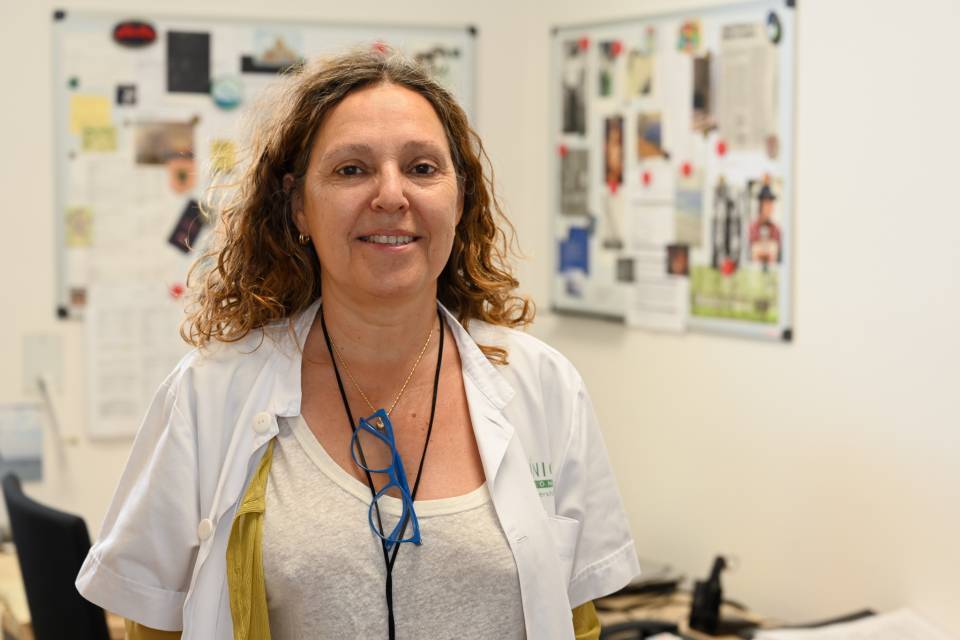 What is an addiction?
We consider an addiction to be the use of a substance regardless of whether its effects are negative or positive.
But we are not always talking about substances…
No, not always. We are also talking about addictive behaviour or non-substance addiction. Addictions listed as mental health disorders are not only associated with substances. The Diagnostic and Statistical Manual of Mental Disorders (DSM-5), which is a manual that lists mental health disorders, already specifies non-substance addictions, above all pathological non-online or online gambling, but it is expected that in a few years time more mental health disorders will be listed such as addiction to screen time, shopping or video games, to give just a few examples.
What is the main task carried out by the Addictive Behaviour Unit?
Our unit is dedicated to the treatment of all kinds of substance use disorders, both legal and illegal, and we also recently started a programme for non-substance addictions. We form part of the Hospital Clínic Neurosciences Institute (ICN) and our approach is mainly from psychiatric and psychological standpoints, although most addictive substances have a variety of levels of additional high toxicity. Drugs are not only harmful to our brain, they can also affect different systems in our body, for example: alcohol can affect the liver, tobacco the lungs, cocaine can cause heart attacks and/or strokes, etc. We focus on addictive disorders, but at the same time we take somatic and social comorbidities into account and try to take a holistic approach to the problem.
"Addiction is not a life sentence and there are many levels of recovery".
Can an addiction be cured?
Yes. We can be cured of an addiction and this happens when a person engages in long-term abstinence and also, in certain cases, some people can become controlled users after having worked on different aspects of their addiction and the associated problems.
Is it advisable to use again after an addiction?
Addiction is not a life sentence and there are many levels of recovery. Substance use disorders accumulate in the second and third decades of life. However, we know that later on, there is a group of people who will go on to be able to make a controlled use with very moderate or sporadic consumption. The approach to addictions has changed a great deal. Each person is different. However, in some cases the person who has had an addiction is able to maintain controlled use. However, a person who has had a period of addiction has a great deal of respect for addictive substances and knows very well what they can do and what they can't. What they don't want, above all, is to go back or relapse, that's for sure.
It is very hard for people to come to hospital and to accept that they have a substance addiction problem?
Yes, it's hard. We are a consumer society, and the idea we are given is that we all have to consume. However, when the negative consequences of consumption appear, the addiction is hidden and the person feels a great deal of guilt or shame. Certainly, there is a lot of social stigma. It is very hard for us to recognize we have a problem, and it is very hard to understand that our friends can use and we can't. In reality, we are a society in which the consumption of legal and illegal drugs is very common, but accepting that you have this kind of problem is not easy at all.
"We are a society in which the consumption of legal and illegal drugs is very common, but accepting that you have this kind of problem is not easy at all".
Advertising campaigns for alcoholic beverages can also harm a person with an addiction. Are they aware of the harm they can cause?
We live in a society that is all about partying, we all have to consume, but at the same time we are not good at tolerating the consequences of or the responsibility for this consumption. The easier it is or the more pressure there is to consume substances, the more people will have addiction problems.
Would you ban adverts for alcoholic beverages?
Personally, I'm more in favour of them being regulated than banned. It is important to regulate them properly in order to minimize harm, and we should be able to provide information to counteract all the things that are not entirely accurate or are downright false.
How has COVID-19 affected people with an addiction?
The effect of COVID-19 on patients with addictions has been one of our Unit's research projects. During the first wave, when everyone was in lockdown, global alcohol consumption was lower. The global balance was a clear decrease in alcohol consumption. However, the decrease did not reach the group of more serious patients who, as we observed in our Unit, were unable to reduce their consumption and, in some cases, increased it.
With regard to the use of cannabis, a drug with a changing legal status, we thought it would be interesting to analyse how the pandemic had affected users' consumption patterns. We wanted to see whether this health crisis situation had an impact on how, when and why it was used and what factors led to its consumption. We also analysed whether the difficulties that lockdown created for the distribution and availability of cannabis had a greater influence, or whether all the stress, anxiety and isolation generated by COVID-19 increased consumption. The study concluded that moderate cannabis users did not modify their consumption and that, on the other hand, light cannabis users increased their consumption. The main reason they gave for this increase in consumption was that, according to them, they were trying to better manage the stress, isolation and boredom caused by the lockdown.
"People who have an addiction and want to be cured must play an active role in their recovery, otherwise it is impossible".
What would be the main risk factors that could lead a person to becoming addicted to a substance?
We are talking about a multifactorial disorder. There are environmental factors, psychological factors and biological factors that mean there are people who are more predisposed to addiction: genetic elements, the environment, trauma, situations experienced during childhood, etc. At the same time, certain personality traits or attributes also increase the risk of having an addictive disorder.
How should the addiction model change in the future?
The Hospital Clínic de Barcelona was one of the first centres in Spain to have a specific unit for the treatment of alcoholism as early as the 1970s, and it has been a benchmark for the treatment of this pathology in Catalonia, leading many research projects. With the learning and knowledge that comes from experience, we try to adapt to and anticipate the changes in consumption patterns and the new drugs that are appearing. For example, we have started a new project to help reduce or discontinue cannabis use in young adults. In our country, cannabis use among adolescents and young people is the highest in the EU. There is a lot of use and little tradition of treatment, and that is important because we know that cannabis use is associated with the appearance of schizophrenia and other psychiatric diseases.
We also have a project to achieve an agreed definition of the 'risky use' of cannabis. As with alcohol, we want to know what quantity of cannabis poses a high risk to users. It will be a definition validated by experts, which we shall also have to pass on to the public. Then it will be interesting to see how, with this new tool, we can improve the level of knowledge and information we have on cannabis and health.
At the same time, we are also opening up new lines of work that can provide answers to new drug-related phenomena such as the so-called "chemsex" or use of stimulant drugs for sex among gay men in the form of binges, which are associated with very high consumption concentrated in a period of time and a specific activity.
How to you deal with a patient with an addiction?
With drugs, we have several drugs that help mitigate the symptoms or alleviate the effects. But there is no medication that can cure the addictive disorder itself. We are working with a complex approach through the therapeutic relationship with strategies such as "motivational interviewing", which is a model of relationship and communication that allows us to work with people without judging them, with empathy, with inclusive language and it aims to increase the chances of change in health habits. All in all, what it promotes is that patients feel capable of changing and that they end up doing so by finding their own motivations and abilities.
People who have an addiction and want to be cured must play an active role in their recovery, otherwise it is impossible. Psychiatrists, psychologists, and social workers play a key role in allowing the patient to address their problem and, at the same time, give them the tools to start their recovery process.
The patient's active role is therefore of key importance.
With other diseases, when patients come to the clinic, they are prepared to start treatment or recovery. However, in this type of disorder this does not always happen. Many patients feel ambivalent when come to our consultations. On the one hand, they want to stop having problems associated with consumption, but they are not sure about not being able to consume any more. Or else they want to stop consuming, but at the same time don't see themselves are being capable of doing so. It is a "yes, but no", which is often accompanied by anger or impotence. Clarifying what the demand is and what the options are and motivating the patient are of key importance for recovery.