What is Rhinosinusitis?
Reading time: 3 min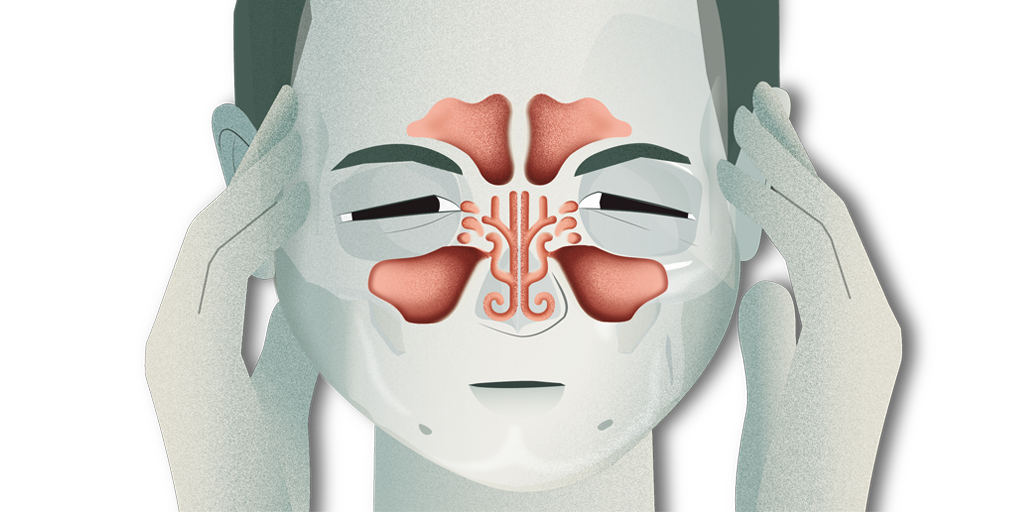 Sinusitis or rhinosinusitis is defined as symptomatic inflammation of the paranasal sinuses and nasal cavity. Nowadays the term rhinosinusitis has replaced the term sinusitis, as most patients often have symptoms of both rhinitis and sinusitis simultaneously.
Rhinosinusitis is an inflammation of the nasal cavities and the paranasal sinuses characterised by obstruction and/or nasal congestion or alternatively by nasal discharge or a runny nose which may drain at the front or back of the nose. These symptoms can be accompanied by facial pain or pressure and a partial (hyposmia) or total (anosmia) loss of the sense of smell.
A physical examination can reveal nasal polyps and/or mucopurulent discharge or a mucus blockage in the middle orifice (meatus).
Classification of Rhinosinusitis
Rhinosinusitis is classified according to its duration:
Acute. Symptoms lasting less than 12 weeks and which disappear completely. The origin could be:
A virus or the common cold. Symptoms of rhinosinusitis that can last up to 10–15 days.
Bacterial. The symptoms get worse after 5 days or persist for 10–15 days.
Chronic. Symptoms for longer than 12 weeks, they do not disappear and may occasionally worsen (flare-ups). These cases are divided into chronic rhinosinusitis with or without nasal polyps.
Nasal polyps
Nasal polyps are small growths that form on paranasal sinuses. They arise due to an inflammatory process of the mucous membrane, but it is unknown what causes them. Repeated inflammation of the nasal mucosa due to, for example, rhinitis, sinusitis or anatomical alterations to the nasal cavities or paranasal sinuses, could be factors that promote the appearance of nasal polyps. The polyps are benign, but they could grow large enough to completely obstruct the nasal cavities. They cause some very uncomfortable symptoms such as an inability to breathe through the nose, a loss of the sense of smell and taste, headaches and even nasal deformities.
How many people are affected by Rhinosinusitis?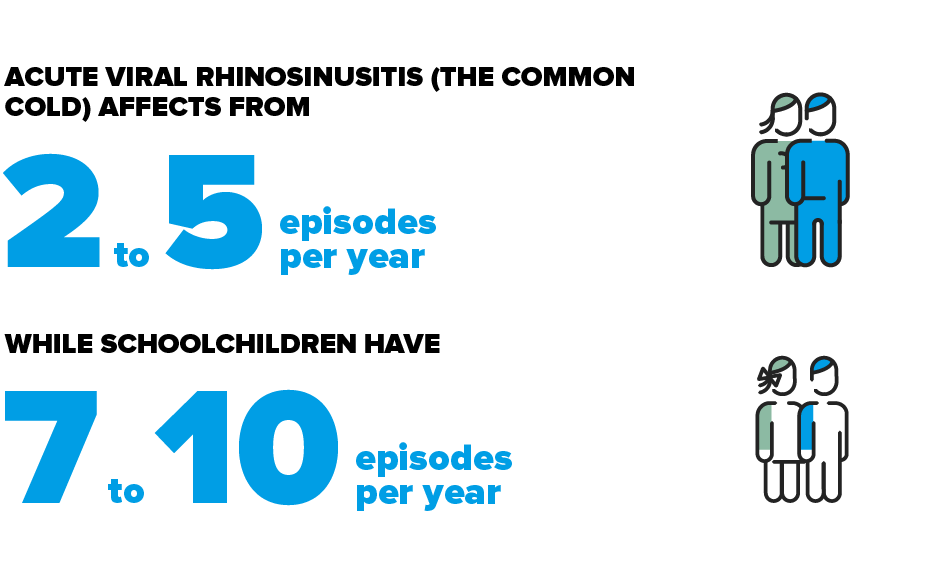 Acute viral rhinosinusitis (the common cold) is very frequent. Adults suffer from 2 to 5 episodes per year. While schoolchildren have 7 to 10 episodes per year. Some 0.5%–2% cases of acute viral rhinosinusitis are caused by bacterial superinfection.
Patients with bacterial rhinosinusitis suffer a clinical deterioration after 5 days or more persistent symptoms lasting for more than 10 days. There are no data regarding its actual incidence. It is estimated that 1 in 7 adults in the United States have rhinosinusitis, representing the fifth leading cause for prescribing antibiotics. The incidence in central Europe is 10%–15%. Rhinosinusitis is a significant health problem and represents a high economic burden on society.
The incidence of chronic rhinosinusitis with or without polyps is estimated that it is between 5% - 15.5% of the total population of the Europe and US (based on patients with clinical symptoms of rhinosinusitis for more than 3 months). However, the prevalence of chronic rhinosinusitis diagnosed by a specialist is only 2% and therefore this large disparity is cause to suspect that this condition is generally overdiagnosed. There are no data to suggest a clear distinction between sexes. While other studies have shown that prevalence increases with age; the average prevalence in patients aged 20 to 29 years was 2.7%, compared with 6.6% in 50 to 59-year-olds. The prevalence levels out at around 4.7% in people aged over 60.
We are sorry, we are working to improve PortalCLÍNIC. Help us become better, tell us why
An error has occurred and we were unable to send your opinion, please try again later.
Substantiated information by:
Cristobal Langdon Montero Ear, Nose and Throat Specialist Otolaryngology Service
Published: 19 September 2018
Updated: 19 September 2018
Subscribe
Receive the latest updates related to this content.
Thank you for subscribing!
If this is the first time you subscribe you will receive a confirmation email, check your inbox
An error occurred and we were unable to send your data, please try again later.