La enfermedad en el Clínic
Treatment of Chronic Fatigue Syndrome
Reading time: 3 min
Based on scientific evidence, it can be said that if a personalised and continued multidisciplinary treatment is applied, then the disease's impact can be partially reduced and the person's quality of life can be somewhat improved.
Drug therapy
To date, no medicines have demonstrated any significant improvement in chronic fatigue syndrome. In fact drug therapy should be combined, individualised and monitored. It is designed to treat the symptoms associated with fatigue.
Pain. First-line analgesic treatments (paracetamol, ibuprofen) should be combined with other second-line treatments (tramadol, oxycodone), if required by the person. Analgesic enhancers such as gabapentin or pregabalin can be used.
Insomnia. Insomnia can be treated with sleep regulators such as melatonin. The use of benzodiazepines should be avoided.
Mood. Antidepressants must only be used if the patient presents symptoms of depression. In the case of panic disorder or agoraphobia, low doses of alprazolam or neuroleptics can be prescribed.
Muscle contractions. Contractions can be treated with magnesium, cyclobenzaprine and very occasionally with baclofen.
Infection. The presence of any bacterial infections should be treated rapidly with antibiotics. Any viral infections must be treated symptomatically.
Neurocognitive impact. Cycles of folic acid and vitamin B12 injections have been suggested, but demonstrated a low effectiveness.
Medicines that can worsen the chronic fatigue syndrome
| | | |
| --- | --- | --- |
| Diuretics | Some antibiotics | Antihistamines |
| Statins | Antidepressants | Proton pump inhibitors (PPIs) |
| Medicine for high blood pressure | Antipsychotics | Benzodiazepines |
No drug treatment
Exercise. Patients with chronic fatigue syndrome get used to a very low level of activity, a fact that triggers muscle disuse and atrophy (wasting) and further worsens the clinical picture. Taking part in short periods of individually adapted aerobic exercise improves the overall symptomatology of the syndrome. Highly personalised attempts can be made to carry out physical exercise, while progressing very gently by increasing the intensity but never forcing even a minimal overexertion. A small overexertion could worsen the condition. Recommended activities are walking for short, intermittent periods of 15 – 20 minutes alternated with equivalent rest periods and doing gentle activity in a heated swimming pool (32 °C), particularly if it is a chlorine-free pool.
Emotional support. Chronic fatigue syndrome can have many consequences for the patient, such as feelings of anger, fear, despair, depression or anxiety. Specifically, unfavourable behaviours which entail a poor adaptation to stress and therefore intensify the symptoms of chronic fatigue syndrome. Psychological advice can help the patient to assimilate all of these feelings and therefore cope with their illness as best as possible.
This type of therapy can be conducted individually or in groups and should address different issues: to find alternative explanations for your symptoms; to restructure any misconceptions or incorrect beliefs about the condition; to help manage stressful or difficult situations better; to modify the patient's expectations so they are more realistic; to learn techniques focused on improving your attention and concentration; to improve self-control and relaxation techniques; to take on a more active role and avoid excessive rest or inactivity and it is also important to promote planned activities that stimulate the retentive memory and improve mental concentration.
Many of these activities are carried out in self-help groups or through patient or professional associations.
We are sorry, we are working to improve PortalCLÍNIC. Help us become better, tell us why
An error has occurred and we were unable to send your opinion, please try again later.
Substantiated information by: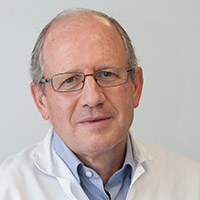 Joaquim Fernández Solà Medical Internist Head of the Central Sensitization Syndromes Unit
Published: 20 February 2018
Updated: 20 February 2018
The donations that can be done through this webpage are exclusively for the benefit of Hospital Clínic of Barcelona through Fundació Clínic per a la Recerca Biomèdica and not for BBVA Foundation, entity that collaborates with the project of PortalClínic.
Subscribe
Receive the latest updates related to this content.
Thank you for subscribing!
If this is the first time you subscribe you will receive a confirmation email, check your inbox
An error occurred and we were unable to send your data, please try again later.
Chronic Fatigue Syndrome related news