Living with Chronic Fatigue Syndrome
Reading time: 2 min
In chronic fatigue syndrome it is important to attempt to achieve an overall lifestyle change; avoid toxic habits, being overweight and a poor diet.
Nutrition. Recommendations are to follow a diet with the least amount of processed food possible and which has been personalised in order to obtain adequate weight control. Avoid becoming overweight by following a low-calorie diet free from animal fats and dairy products and with a limited amount of fast-absorbing carbohydrates. Some patients with CFS notice the benefits of a low-gluten diet because they have non-celiac gluten sensitivity. Patients should take the appropriate supplements in cases of calcium, iron or vitamin D deficiency.
Coenzymes. Some oral energy supplements, such as the combination of coenzyme Q10 and NADH, have demonstrated a degree of temporary effectiveness in some patients. They supply cellular mitochondria with energy and slightly improve the level of fatigue.
Complementary therapies. Regards complementary therapies, the majority of patients tend to use them at some time or another. Nevertheless, they have not proven effective in the treatment of CFS. Only acupuncture can temporarily relieve pain, anxiety and muscle contractions in some patients. Homeopathy has not demonstrated any efficacy. Nor has ozone therapy.
Intensive massages. Can be counter-productive and cause pain.
Emotional support. Patients find it difficult to adapt to and live with their condition. In fact, when chronic fatigue syndrome is diagnosed, the patient goes through a difficult phase of adaptation and grieves the loss of functionality which they will never recover. This process can last from months to years. Patients should try to avoid entering into a spiral or loop of disability when confronting the reality of their illness and must receive adaptive and personalised multidisciplinary support. Chronic fatigue syndrome not only affects the patient, but also their family, work and social environments. CFS neither follows a unique pattern nor has a unique solution. Treatment must be adapted to each case and in function of the local resources. Chronic fatigue syndrome patient associations and self-help groups can provide greater information and facilitate a gradual adaptation to avoid that the patient falls into a spiral of disability.
We are sorry, we are working to improve PortalCLÍNIC. Help us become better, tell us why
An error has occurred and we were unable to send your opinion, please try again later.
Substantiated information by: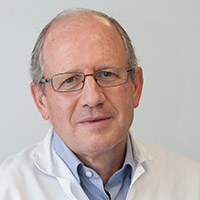 Joaquim Fernández Solà Medical Internist Head of the Central Sensitization Syndromes Unit
Published: 20 February 2018
Updated: 20 February 2018
Subscribe
Receive the latest updates related to this content.
Thank you for subscribing!
If this is the first time you subscribe you will receive a confirmation email, check your inbox
An error occurred and we were unable to send your data, please try again later.
Chronic Fatigue Syndrome related news