Tipos de defectos refractivos
What are refractive errors?
Reading time: 2 min
Refractive errors are disorders of the eye that prevent images from being properly focused on the retina, which results in blurry vision. These defects may be caused by disorders in eyeball length, the shape of the cornea or the transparency of the lens. Refractive errors include to myopia, hyperopia and astigmatism.
Anatomy of the eye and how vision works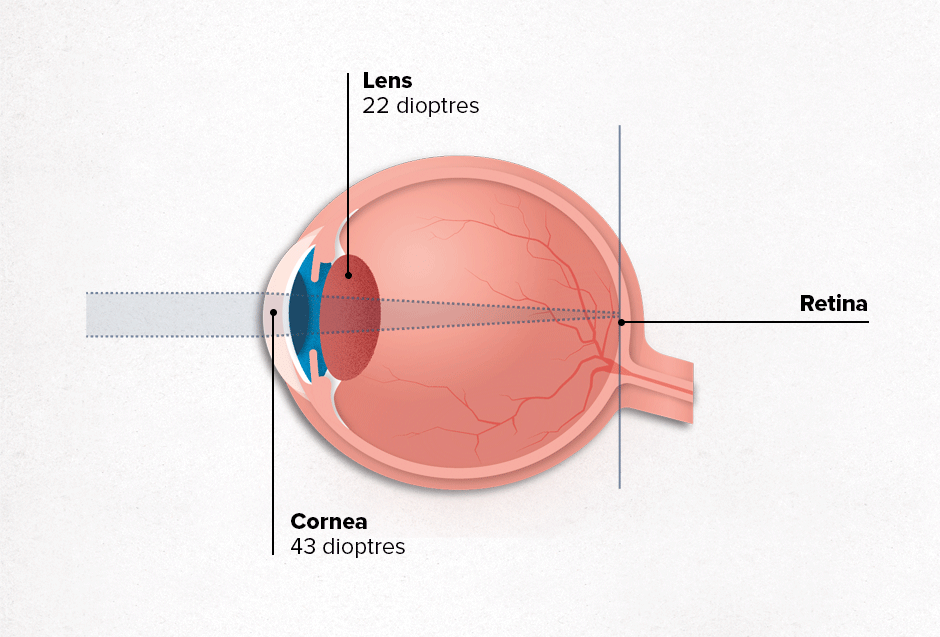 A good example to understand this better is a film being projected at the cinema. The projector has to focus correctly to obtain a sharp image on the screen.
The eye works in the same way. The light passes through the cornea and the crystalline lens just like it passes through a projector lens to focus the image.
To focus properly, the distance between the lens and the screen has to be correct. If the distance between the projector and the screen is too close or too far, the image on the screen will be blurry.
The cornea is a spherical transparent surface at the front of the eyeball that allows light to enter and focuses the images on the retina to make them sharp. The lens is a transparent structure inside the eye that changes shape to help focus on near objects.
These natural lenses (the cornea and the lens) have a smooth, uniform curvature. When this curvature is not smooth or uniform, the light that enters does not refract correctly on the retina (the back of the eye), which means the images are out of focus.
Having adequate lens power and correct eyeball length is known as emmetropia (normal vision). But when any of these factors (generally the length) changes, the image is not properly formed on the retina, which causes ametropia (blurred vision).
What is a dioptre?
A dioptre is a unit of measurement used to grade the eyes. It is used to describe the quantity of refractive error corrected (grading) by a lens to achieve good vision. It is expressed in positive and negative values. If these values are negative, diverging lenses are needed for correction (for example in myopia) and if they are positive, converging lenses are needed (for example in hyperopia or presbyopia).
We are sorry, we are working to improve PortalCLÍNIC. Help us become better, tell us why
An error has occurred and we were unable to send your opinion, please try again later.
Substantiated information by:
Jorge Peraza Nieves Ophthalmologist
Mireia Hereu Optometrist
Published: 21 October 2020
Updated: 21 October 2020
Subscribe
Receive the latest updates related to this content.
Thank you for subscribing!
If this is the first time you subscribe you will receive a confirmation email, check your inbox
An error occurred and we were unable to send your data, please try again later.