You will join a biomedical research centre with a solid track-record of excellence and competitiveness, located in the Campus Clínic in Barcelona (Spain). The Campus offers a stimulating research and innovation environment, including the Clínic Barcelona Hospital, a century-old reference hospital committed to healthcare, research and teaching, covering virtually all medical and surgical specialities, and the Faculty of Medicine and Health Sciences of the University of Barcelona, dating back to 1843 and today one of the most highly regarded health faculties in Spain and worldwide.
The close interaction of 100 IDIBAPS clinical and laboratory research groups drives forward original translational and multidisciplinary research oriented to solve relevant biological and clinical questions for human health. Moreover, the institute has been being pioneering dedicated programmes to promote the profiles of clinician-scientists.
IDIBAPS tackles cutting-edge translational research in 5 main areas focusing on:
IDIBAPS has a large community of junior researchers, offering training and career development opportunities, and access to state-of-the-art facilities in the institute and on Campus. Different departments ensure that IDIBAPS researchers have access to modern working spaces with functional research equipment and comprehensive lab management support. Excellent mentoring and supervision are offered in the framework of the research groups; moreover, IDIBAPS organizes in-house activities, seminars, courses and workshops, promoting professional and personnel growth and interaction. You will join the vibrant and active IDIBAPS PhD Community, organizing multiple scientific and social activities, such as the yearly PhD Day.
The institute offers excellent working conditions and creative environment as ensured by the HR Excellence in Research award (European Commission).
The following fully funded PhD fellowships are available in this call:
Francisco Lozano
Immunotherapy, infection, cancer, lymphocyte scavenger receptors, CD5, CD6.

Our group aim to identify and understand the function of the molecules that regulate immune response in health and disease. We particularly focus on the molecular interactions involved in the intercommunication and coordination of immune cells during physiological and pathological processes. This approach will allow the development of new approaches and biological tools for the treatment of immune-mediated disorders. Over the last 5 years, we have published over 50 research papers, created a new spin-off company, and field 2 patents.

What are we looking for?
We are looking for a highly motivated, organised, and collaborative researcher with expertise in immunophenotype and functional analysis of in vitro experimental models and in vitro diseases of infection and cancer. With accreditation to carry-out laboratory animal experiments.
Marc Claret
Hypothalamus, POMC neurons, obesity, diabetes

The team aims to understand the molecular mechanisms through which specific neuronal circuits, operating in the hypothalamus, regulate food intake, body weight and whole-body metabolism. The candidate will join a research project investigating the heterogeneity of hypothalamic POMC neurons, to anatomically and functionally define specific subpopulations in the context of energy homeostasis, obesity and type-2 diabetes. The project, at the interface of metabolism and neuroscience, will use a wide range of cutting-edge technology (mouse genetics, intersectional genetics, fibre photometry, chemogenetics, optogenetics, RNAseq, etc.) related with several domains (endocrinology behaviour, physiology, etc).

What are we looking for?
We are looking for motivated, creative, committed and team working candidates holding a Master degree in relevant area of life science with strong academic record. The following requirements will be valued: previous laboratory experience in molecular biology and/or neuroscience; previous experience using in vivo models (mouse, with experimental animal handling licence); good communication skills in written and spoken English; basic data analysis and programming skills (R, Python) (desired but not strictly required).
Josep Maria Llovet
Liver cancer, hepatocellular carcinoma, biomarkers, genomics, immuno-oncology, response and resistance to immunotherapies

Our translational group has defined the molecular and immunological classification of hepatocellular carcinoma and has characterised certain therapeutic targets. Our long-term objective is to improve survival rates and quality of life in patients with liver cancer, as well as to improve prevention. The impact of our studies may help improve the prevention and treatment of liver cancer by identifying the biomarkers that predict the response to immunological therapies, and those that predict resistance. Currently through EU-funded grants we use cutting-edge technology, such as next generation sequencing, single cell sequencing, spatial transcriptomics, analysis of microbiome and artificial intelligence.

What are we looking for?
We are in search of a candidate motivated for a career in cancer translational research and with a strong aptitude as a team player. Previous involvement in translational research will be taken into consideration, as well as experience working with murine animal models. Familiarity with core wet-lab techniques, including RT-PCR, IHC, and cell culture, will be preferred. Fluency in both written and spoken English is a requirement. Candidates with practical experience in next-generation sequencing data analysis and processing methods, as well as the capability to apply appropriate statistical tests for data analysis, will be highly valuable.
Manuel Morales-Ruiz
Liver disease, RNA helicases, liver regeneration, tumor growth, fibrosis, nanotechnology

The liver has a great capacity to react to internal disturbances due to 1/ the great adaptation of the hepatic transcriptome, and 2/ its outstanding regenerative capacity. However, unconotrolled transcriptional activity and regeneration may contribute to abnormal cell division and development of liver cancer. Therefore, a better understanding of the common factors controlling the regulatory steps of RNA metabolism in liver disease, will be necessary to advance in the fields of regenerative medicine. RNA helicases and microRNAs are part of these common factors and are the focus of this project and job offer.

What are we looking for?
We are actively seeking a candidate holding an M.Sc. or equivalent degree in a biomedicine-related discipline.
Key Qualifications: Proficiency in English, both written and spoken, accreditation to conduct laboratory animal experiments, hands-on experience in cell biology and molecular biology, coupled with adeptness in working with experimental rodent models, aptitude in statistical analysis, a critical skill to draw meaningful insights from data, demonstrated capability to work both independently and collaboratively, self-motivation and a positive attitude.
Desirable Skills: While not obligatory, expertise inanalytical techniques such as ELISA, LC/GC-MS would be advantageous.
Pau Sancho-Bru
Cell plasticity, iPSCs, organoids, in vitro models

Based on human samples, experimental models of liver disease, and stem cell-based in vitro systems, the group seeks to identify the factors responsible for impaired regeneration of the liver and the mechanisms that alter tissue repair. Within this context, the group is particularly interested in developing organotypic in vitro systems for studying cellular plasticity and identity in response to injury, as well as the mechanisms that promote hepatic inflammation and fibrosis.

What are we looking for?
We are looking for excellent, enthusiastic and self-motivated early-career researchers with good communication skills to join our research team. The PhD candidate should have: A Master's degree (or comparable) in translational medicine, biomedical sciences or bio-engineering related disciplines. Experience in cell culture. Strong interest in the use of iPSCs for disease modelling. Applicants must be able to work independently and in a structured manner and demonstrate good collaborative skills. Applicants must be proficient in both written and oral English.
Eligibility criteria:
University Degree and a Master Degree within the European Higher Education System (minimum 300 ECTS) or an equivalent University Degree allowing to enrol in a PhD programme in Spain.

Academic record, previous research experience and a strong motivation to research.

Knowledge of English.

The call is open to candidates of any nationality, gender, culture, religion, sexual orientation, or age.
How to apply:
Send the following documents to fcrbrrhh@recerca.clinic.cat:
Curriculum Vitae. Including general information, education, training, honours, scholarship, prizes and awards, research experience, publications, scientific interests, etc.

Motivation letter. Indicating the chosen laboratory and the motivation to join the selected research project.

Two reference letters.

Accrediting documentation of the merits presented and the required qualification.

Fill the Application Form (You can select up to two laboratories to apply your PhD position)
Selection process:
The selection of the fellows will be carried out by the group leaders offering the positions and will follow the principles of open, transparent and merit-based recruitment.
Pre-selection: the pre-selection will be based on the candidate's CV, motivation letter, reference letter and the research interests.

Interviews: the pre-selected candidates will be invited to an oral interview to further assess their qualification and research motivation.

Notification to candidates: the successful candidates will receive a notification after the oral interview with the expected start date.
Call timeline: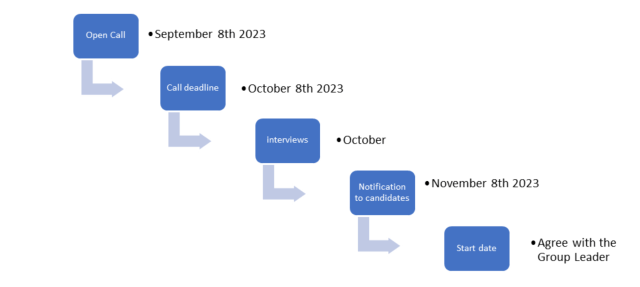 Contact:
Maria Fatjó: mfatjos@recerca.clinic.cat
Agustín Rodríguez: agrodriguez@recerca.clinic.cat